The Best Passion Flower Supplement Brands (For Anxiety)
Maybe you've been struggling with anxiety for some time. You want to do something about it, but do you wonder if medications are really necessary? Or are you worried about side effects?
Passion flower is a natural, herbal remedy most commonly used for anxiety.
It can be found in the wild in southeastern regions of the United States, but was first discovered in Peru.
In recent years, it's gained popularity amongst gardeners as a domesticated plant. 
Passion flower a light natural sedative that can be effective in treating panic attacks, depression, and stress.
Passion Flower for Anxiety and Stress
Does passion flower really help with anxiety?
Yes! Anxiety is the main reason that people take passion flower. That's because they produce results similar with benzodiazepines, a drug commonly prescribed for anxiety.
However benzodiazepines have been shown to produce negative side effects like dependency and withdrawal symptoms.
One study compared the effects of passion flower and oxazepam, a popular antidepressant in the benzodiazepine class.
Researchers discovered that the two had were similar in their ability to decrease anxiety in participants. However, oxazepam impaired the participants' job performance, while passion flower did not.  
Taking passion flower for anxiety works because it increases the amount of GABA neurotransmitters in the brain. GABA is responsible for calming and reducing stress. Passion flower helps with not only anxiety but panic attacks as well.
You might not be able to treat severe anxiety with only passion flower. However, passion flower is usually effective for mild anxiety. As a mild supplement, pregnant woman and children can also benefit.  
Passion Flower for Depression
Due to links between anxiety and depression, passion flower may have some positive impact on depression. Its tranquilizing and sedative effects can stabilize moods. Those suffering from depression should not use passion flower exclusively.
Passion Flower Dosage
For an adult who is 150 pounds or 70 kilograms, the general recommended dosage for anxiety is 45 drops of passionflower extract a day, or a 90 mg pill. Passion flower is not only available in as an extract, but can be taken as a tea or tincture.
Broken down for use throughout the day, here are the recommendations for an adult:
Liquid extract: 10 to 20 drops, three times a day; use a 1:1 ratio in 25% alcohol
Tea: 1 teaspoon (between 0.5 to 2 g) of dried herb for one cup steeped for 10 minutes; drink three or four cups a day for anxiety
Tincture: 10 to 60 drops, three times a day; use a 1:5 ratio in 45% alcohol
Passion flower should not be taken over one month at a time. The herb contains compounds that depress the body's central nervous symptom.
It can cause slow down your heart rate and cause more serious effects if taken for too long or in large quantities.  
Passion Flower Side Effects
Due to its mild nature, you can safely combine passion flower with other herbal remedies.
Avoid combining passion flower supplements with antidepressants, notify your doctor of any herbal supplements you are taking.
Since passion flower is a natural herb, there is no risk of dependency. However, you could experience mild side effects. Some people have reported experiencing drowsiness, while others merely experience a calming effect.
In a few cases, users experienced side effects like nausea, dizziness, or a rapid heartbeat. It's important to be careful with your dosage and not exceed the amount recommended for your weight.
While the supplement is safe in most cases, the American Pregnancy Association advises against taking passion flower orally during pregnancy. Instead, they recommend using a topical rub.  
While passion flower has been used for children experiencing anxiety or other symptoms treatable by the herb, research in this area is still lacking.
Passion Flower for Anxiety: Top Brands
We looked at passion flower supplements with high ratings, as well as a few alternatives like passion flower oil and lozenges.
Capsules
Solaray's Passion Flower supplement is clean and straightforward. Its dosage is two 350 mg tablets. One of the most popular supplements rated, it works well for anxiety, panic, and stress. It has even worked in cases of severe anxiety. Users reported no heavy drowsiness or haziness after use.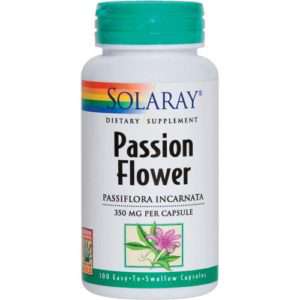 Swanson Premium's Full-Spectrum Passion Flower
Swanson Premium's product uses a higher concentration of passion flower for a dose of only one capsule. Effects are more varied, as it didn't seem to have as much strength as some other passion flower supplements. As a result, drowsiness is limited or not felt. This supplement consistently worked well in alleviating stress.

Peaceful Nutrition's Calmquil Anxiety Relief with Passion Flower
Calmquil Anxiety Relief doesn't just stick with passion flower but includes 14 ingredients total: Vitamin C, Thiamin, Niacin, Vitamin B-6, Vitamin B-12, Pantothenic Acid, Magnesium, Inositol, Ashwagandha, L-Theanine, GABA, Passion Flower, Lemon Balm, and 5-HTP.
With this many ingredients, you should be sure to check with a doctor before combining it with other supplements or medications.
It is pricier than a simple passion flower supplement. Unfortunately, some users reported that it was ineffective for their anxiety. Those who found it effective reported that taking a dose in the morning helped keep them calm without any inhibiting drowsiness. It also works well when taken before bed.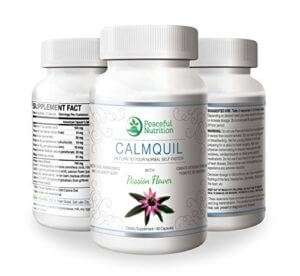 Liquid Extracts
Botanic Choice Alcohol-Free Liquid Extract Passion Flower
This liquid extract is an alcohol-free tincture. The recommended dosage is 1 to 2 ml or 28 to 56 drops, used three times a day unless otherwise directed. It helps with calming nerves and reducing anxiety. For some, the extract also helped their quality of sleep and menstrual hot flashes.  Some claim that the taste is better than other extracts.

Nature's Answer Alcohol-free Passion Flower
This extract is another alcohol-free tincture, which seems to be more popular than their alcoholic varieties. Nature's Answer's product is advertised primarily as a supplement for sleep, but customers report it has helped with both daily and serious anxiety. This product has been effective in reducing menopausal hot flashes.

Other Forms of Passion Flower
Mt. Angel Vitamins Passion Flower Lozenge
60 lozenges

tropical mango and melon flavor
Mt. Angel Vitamins has produced a fast-acting lozenge form of passion flower. They include Methyl B-12, and one lozenge has the strength of about 70 drops of extract. The product uses a ratio of 4:1 passion flower with 50 mg.

Conclusion
Anxiety can be crippling in everyday life. However, you don't have to turn to medication just yet. Passion flower can be effective in treating symptoms of anxiety, depression, panic attacks, and stress.
We recommend the Solaray Passion Flower supplement for anyone looking to try passion flower for anxiety. Even mild side effects are rare, and the lower concentration per capsule makes it easy for beginners to start off slowly.  
If you have any questions, feel free to leave a comment below.
---
Some of the best nootropics for anxiety
[catlist excludeposts=this template="div" id="192" tags="for-anxiety"]
About nootropics
[catlist excludeposts=this template="div" id="192" tags="general-info"]