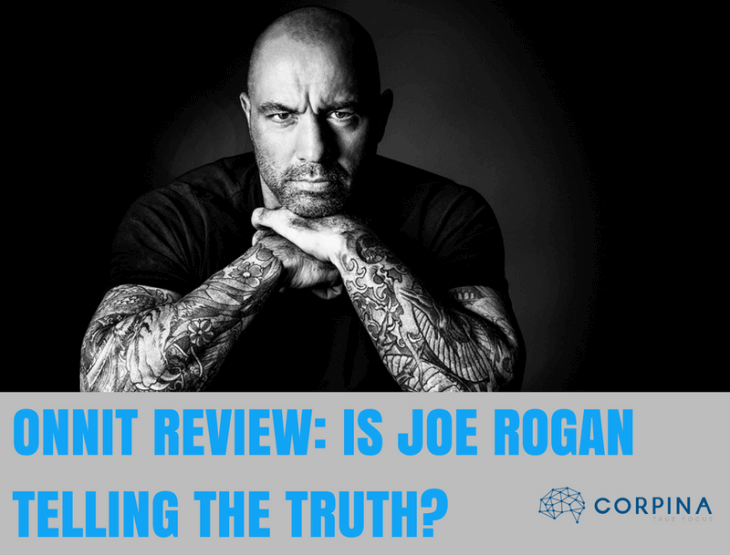 Onnit Review: Is Joe Rogan Telling the Truth?
You've all heard about Alpha Brain, it's one of the most widely covered proprietary blends on the nootropics market.
A fairly common combination of Alpha GPC, Bacopia Monnieri, Huperzine A and other popular mind-enhancing supplements, Alpha Brain has been touted as an advanced brain booster.
Alpha Brain is the brain child (pun very much intended) of the folks over at Onnit, an Austin-based collective who are taking the nootropic world by storm. And Alpha Brain is only the tip of the proverbial ice berg…or should I say ice berg lettuce?
We wanna keep things all-natural in this piece, right?
Either way, here we will explore Onnit as a whole from soup to nuts, taking a careful look at not only their highly rated Alpha Brain supplement but their entire product line, business model, et al.
Background
Onnit was founded in 2010 by Aubrey Marcus, a Richmond University grad with a very diverse and colorful past.
After graduating with (of all things) a degree in philosophy, Marcus avoided the obvious path of teaching philosophy (since there's really not much else to do with a philosophy degree short of buying a toga and standing on a soapbox on a street corner, shouting about existentialism) and instead opted to start a marketing company.
Marcus ran his marketing company and met with much success for seven years, all the while counting the days until he could afford to chase his true passion—developing a natural supplement brand "dedicated to human optimization."
In 2010 he finally got his chance and he ran with it. Onnit was born and, in one year's time, Alpha Brain would hit the market and make quite an impression.
Alpha Brain has been espoused by none other than Dr. Oz, among many others, and holds a firm position as Onnit's flagship formula.
But it's not the only rabbit they got in their hat; Onnit's website boasts a relative plethora of post-Big Pharma treats from Pumpkin Spice oil to protein designed to replenish.
Onnit's success as a natural supplement purveyor is due in large part to Marcus' background as a multi-sport athlete and his close relationship with partner Joe Rogan, the comedian and talk show personality who assisted in putting Onnit on the map and making it a multimillion dollar enterprise.
The sincerity and integrity of Marcus' vision is made that much clearer by his extra-curricular endeavors—Marcus hosts not one but two podcasts, the Warrior Poet Project and the Total Human Optimization Podcast, respectively.
In said podcasts, he expounds on measures that people can take to improve their mental clarity and physical fitness.
Bringing The Goods
Onnit's website offers a wealth of unique items and features from exercise equipment and fitness DVDs to health foods and personal care products. Here we'll look at them and see what they're all about.
As stated above, Alpha Brain leads the herd when it comes to Onnit's many wares.
So it's no surprise that Onnit has used the name to sell other things. Alpha Brain Instant is their tried and true Alpha Brain formula in a fast-acting drink mix form.
This clinically-studied peach-flavored blend comes in thin black-and-yellow packets which look not unlike a single serving of Crystal Light. The packaging promises earth grown nutrients and delivers on that promise.
People are loving this new formulation and the fact that it can dissolve so quickly in water. Brain Wiz gave Alpha Brain Instant four-and-a-half stars, calling it, "beginner friendly" and offering instructions on how best to prepare it. On the flip side, some of their testers weren't as optimistic with one writing, "I don't think everyone will love their flavors."
Whether or not Alpha Brain Instant is tasty in each individual user's opinion is moot because its overall reputation speaks for itself. Here at Corpina we gave Alpha Brain Instant a four star review and we're not the only ones digging this mix.
On Amazon, the vast majority of consumers ranked Alpha Brain Instant as a five-star product with reviewers praising it as "good stuff" and "great for number crunching."
Another reviewer echoed the aforementioned bad taste sentiment, calling it out for its substandard flavor, a factor that Marcus and company should probably reconsider down the line.
But, regardless, the verdict is in: Alpha Brain Instant is every bit as much of a winner as its supplement predecessor. As with the supplement form, Alpha Brain Instant is formulated to support memory and promote faster processing speed as well as sharper focus.
On Alpha Brian Instant's product page, you can see that in randomized clinical trials, it was shown to improve peak alpha flow state. For those of you who haven't heard of this before, a flow state is an optimal state of consciousness.
For more on this you can visit Psychology Today for a comprehensive breakdown that elaborates on the effects this state has on creativity, clarity and awareness. Fundamentally, this means that Alpha Brain Instant induces heightened focus and recall.
Quality and quantity are, of course, two very different things and while Alpha Brain Instant is definitely a viable nootropic tool for performance and studying, its cost-effectiveness is debatable.
A 30-count box retails for $50.96 and that's at Onnit's discounted price.
That being said, they do offer a 15% savings if you subscribe to one of their monthly plans. The plus side is their money back guarantee which ensures that you will see undeniable benefits or receive a full refund.
Also in the supplement realm, we have Total Primate Care, "convenient day and night packs" that come in sleek black boxes that look like nothing so much as Magnum condom containers.
And you just may want to reach for your actual condoms after you've taken this miscellaneous stack of minerals, herbs and amino acids. Marketed as helping to "bring out your most powerful self," Total Primate Care is meant to maintain optimal cognitive function while enhancing mood, protecting the integrity of bones and joints, and promoting immunological well-being.
Onnit offers a handy online video for this product which delves deeper into its purported benefits and the contents within it.
Again, the price is rather steep at $93.46 for a 30 day supply, but no pain, no gain can apply to hurting you in the wallet as much as hurting you in your muscle groups.
With this one, we get some of the most potent and valuable ingredients around from the venerable superfood Spirulina to the essential fatty acids of Krill Oil.
Total Primate Care finishes off with a nutritional blend of mushrooms, tumeric extract, herbs and Chlorella.
It would seem that Onnit has something for just about everyone as their supplement store alone boasts blends for gut health, workouts, cardiovascular performance, etc.
And like their brain drink formula mentioned above, they also offer a line of sprays for those users on the go who can't slow down to get sharpened up.
Their food menu is just as versatile with bottles of plant-based proteins, most notably their Hemp Force, a high-performance protein infused with Acai Berry and Chia. Hemp Force is one of their more affordable options, priced as it is at $38.21.
Other food items include their Warrior Bars, Native American natural bars made of buffalo meat with a blend of pepper and cranberries. These come in a variety of flavors, most notably Jalapeno.
The options are all but limitless here, limitless, of course, being a key word when discussing nootropics. What we have here is a very well-rounded website from a prolific company that has its finger on the pulse of what us natural warriors want. Whether it's their Walnut Almond Cashew Trilogy Butter or their line of emulsified MCT oils, Onnit's got you covered.
Their website acts not only as a carefully-crafted one-stop shop for noots but, also, an educational portal for those who visit it seeking clear and detailed information about the same.
Sporting a pro team which includes a swath of respected athletes and celebrities, the likes of everyone from pro hockey player Duncan Keith and actor/crossfit athlete/Bayside High graduate Mark-Paul Gosselaar, Onnit takes pains to be both transparent and helpful.
In addition to their extensive coverage of each supplement and food, Onnit offers their own academy whose faculty is composed of fitness experts from around the globe. Whether in person or online, they offer a range of programs intended to assist you in a number of athletic areas with end game certification.
Onnit's Rep
Onnit has earned quite an impressive reputation among consumers and nootropic reviewers.
Their flagship product has received a four-star rating on bodybuilding.com and has been the subject of several YouTube testimonials like this one in which a YouTuber named Marcello says, "There is a clarity that I now have that I didn't have before. Minor details that used to elude me stick much better now."
Not everyone has been so enthusiastic, particularly in the case of Alpha Brain, with one Reddit poster saying, "It did nothing for me; aside from being a supposed nootropic it's also supposed to help with dreams. Did nothing for me there too." Others have questioned the legitimacy of their products with one person calling Onnit's team pseudoscientists.
One important thing to note is that Onnit Labs, LLC is not a BBB (Better Business Bureau) accredited company and their customer review rating on BBB's website is 100% negative.
However, this score is based on just one review and three complaints, hardly a substantial amount when you consider the volume of Onnit's annual sales.
In summary, when it comes to providing the public with a wide variety of natural alternatives to mainstream remedies, foods and hygiene products, Onnit is on it!
---
About nootropics