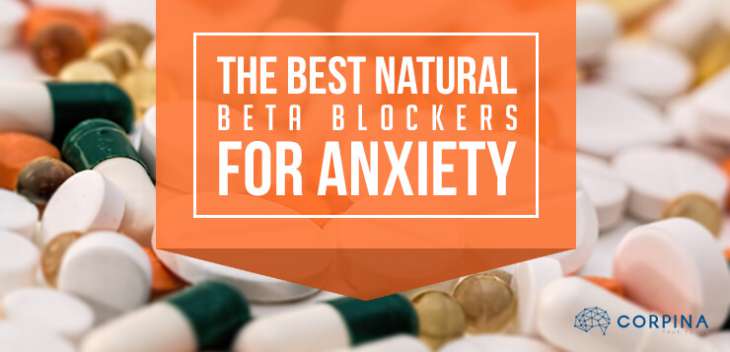 STOP Anxiety With These Natural Beta Blockers
If you are like me, you may battle with anxiety issues that affect your everyday life. Do you quickly become overwhelmed?
Does the idea of getting up in front of a group of people paralyze you? Do you hate crowds and avoid crowded venues?
If so, you may want to try taking natural beta blockers for anxiety.
What are Natural Beta Blockers for Anxiety?

Before you can decide which natural beta blocker will work best for you, you first need to understand what a beta blocker is. In general beta blockers inhibit norepinephrine and adrenaline from attaching themselves to nerve receptors that are called beta receptors. It is this action that assists in lowering anxiety, blood pressure, and heart rate.
Pharmaceutical beta blockers are often prescribed by physicians in order to treat high blood pressure, anxiety, and heart issues; however these synthesized beta blockers do have significant side effects such as:
Vomiting
Diarrhea
Blurred Vision
Stomach Cramps
Nausea
Fortunately for us, there is an assortment of herbal beta blockers for anxiety available in supplement form that has been scientifically proven to reduce anxiety without the side effects that you may have with pharmaceutical forms of beta blockers. Some of the more effective natural beta blockers are:
Kava Extract

– Kava extract is the kavalactones that have been extracted from the Kava Root. These extracts have been used for centuries to reduce anxiety and depression and are available in concentrated capsule form to use as dietary supplements.

L-Theanine

– Found in tea, L-Theanine is an amino acid that has been found to relieve anxiety without causing drowsiness.

Ashwagandha –

Ashwagandha is sometimes referred to as Withania Somnifera. This herb has been successfully used to reduce stress and anxiety within the Indian culture for hundreds of years. Its ability to lessen immunosuppression that is caused by stress has prompted oncologists to begin recommending its use to their cancer patients.

Bacopa Monnieri

– This Indian herb has been used as a focus or memory enhancer for centuries, and its ability to improve memory or attention has been directly linked to the herbs natural beta-blocking abilities that reduce stress and anxiety.

5-HTP

– This is directly related to serotonin production, and by taking 5-HTP you increase the amounts of serotonin in the brain which regulates mood, sleep, and appetite.
In addition to the homeopathic beta blockers for anxiety listed above fish oil, inositol, Rhodiola Rosea, lavender, and Magnesium are also considered to be natural beta blockers that work to relax the body there for reducing anxiety.
Natural Beta Blocker in Food

For those of you who prefer to get their nutrients from food rather than supplements, there are also several food categories that supply the body with serotonin increasing amino acids and natural beta blockers, such as meat and dairy products, and any foods that contain significant amounts of potassium. Be leery of taking too much potassium though since it also affects the heart.
Pomegranate Juice is another food option that is naturally rich with beta blockers. Drinking this daily in combination with some of the other serotonin-producing foods listed above will lessen fatigue and improve mood health.
Over the Counter Beta Blockers for Anxiety
Before buying an over the counter beta blocker to treat your anxiety issues, familiarize yourself with the dosing requirements for the many different natural beta blocker options. Dosage amounts range significantly between products.
Product quality is another concern to consider when purchasing over the counter beta blockers. Ask your pharmacist which brands they recommend and trust, before simply grabbing the first name you see; not all brands provide the same quality assurances and won't work as efficiently as those who have tighter standards.
You should also consult with your doctor before you begin taking any beta blockers for anxiety treatment, to prevent any accidental overdose or adverse reactions to medications or supplements that you are already taking.
Natural Beta Blockers for Performance Anxiety
Foods and supplements that contain natural beta blockers are a great way to help you overcome your stage fright or performance anxiety issues. The best way to use natural beta blockers in this way is to regularly include in your diet foods that are rich in amino acids, beta blockers, and potassium; keeping your body's serotonin levels at an optimum.
Then an hour or so before you are scheduled to perform snack on food items such as:
Salmon
Cheeses
Nut
Blueberries
Pomegranate Seeds or Juice
Doing this supplies your body with the boost of beta blockers that it may need to minimize stage anxiety and be able to focus on what you need to do on stage in case your regular diet is not entirely supplying you with what you need for those excessively stressful situations.
Ideally, you want to maintain brain chemistry levels by providing it with the foods and natural amino acids, beta blockers, and nutrients that it needs to keep serotonin levels from dipping too low, and increasing the amount of norepinephrine and adrenaline that attach to nerve endings in the brain. By doing this, you will minimize the number of anxiety attacks you have.
Severe dips in serotonin levels and other vital brain chemicals take your body extended periods to get back to normal, and as such create an inability for you to fight the overwhelming feeling of anxiety and depression that follow these dips; making regulating your levels with natural beta blockers vital to consistently feeling better.
Taking Control of your Anxiety
Fighting anxiety is a lifelong battle for many people, whether it stems from trauma, brain injury, or genetics, it is a very real battle. Unfortunately, the stigma attached to anxiety often leaves you feeling helpless and alone. However, that does not have to be the case.
By eating foods rich with natural beta blockers, taking supplements to manage brain chemistry levels, and continuing to communicate with your doctor and pharmacist about your condition and improvements, you can take control of this sometimes debilitating condition, without a bunch of pharmaceutical medications and side effects.
---
Some of the best nootropics for anxiety
About nootropics