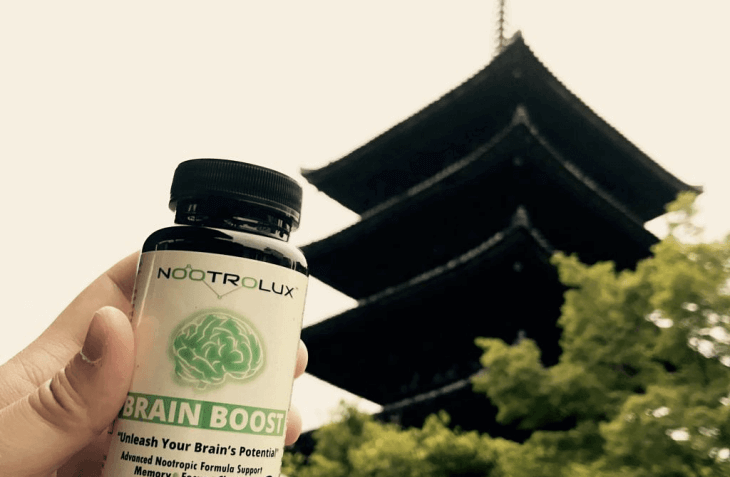 Nootrolux Review: A Unique Nootropic Stack WITHOUT Caffeine
This is my review of Nootrolux and their leading stack "Brain Boost", a new nootropic stack that launched in 2017. What's unique about this stack is that it doesn't contain caffeine. 
Many stacks today rely on caffeine for their nootropic effect. Caffeine itself is an incredibly powerful nootropic, so it's often difficult to tease out the effects of the rest of the stack.
With that in mind, let's take a closer look…
But before we dive in, why bother with nootropics at all?
Do you struggle a lot to remember important things? Names? Birthdays? Your car keys?
We all do, but we often attribute memory loss issues to the wrong things. Age is a big factor, but what most people don't realize is that memory loss is reversible, if treated properly.
One such hopeful treatment comes in the form of nootropics, the brain boosting supplements made famous by the movie Limitless. Today, nootropics are almost a household name, with students and employees nationwide using them to get an edge.
When used wisely, nootropics can actually help improve memory retention and recall. But there are hundreds if not thousands of nootropics on the market today. How do you know which ones to take, and how much to take?
Luckily, there are nootropic "stacks" which tactically combine some of the best nootropics on the market into one, convenient capsule. And that's exactly what we're going to look in this article — a novel nootropic stack Nootrolux which combines some of the most powerful nootropics available today.
It caught my attention because it uses a blend of nootropics that is not found in any other stack. After a few weeks of use, the many benefits and low side effects of the Nootrolux made it one of my best choices for mental energy.
Read on to get my full run down of Nootrolux, it's pros and cons, and whether or not it's right for you.
What is Nootrolux Brain Boost?
Nootrolux Brain Boost is the result of advanced neuroscience and medicine. By combining the world's most popular, evidenced-backed ingredients, shown to improve mental health. Nootrolux Brain Boost has created this nootropic aka smart drugs to improve focus, clarity, and concentration.
It is one of the most complex formulas out there with 8 different nootropic ingredients. More importantly, it is caffeine, non-GMO, allergen free and gluten free.
How Does the Supplement Work?
If you look at the home page of Nootrolux Brain Boost, you can find all ingredients, explanations, and research on which their claims are made.
I've been testing Nootrolux Brain Boost for several months to understand how it really works and what happens after you take it for a longer period. Here is what happened during the first couple of weeks:
Week 1
I expected tremendous results from this nootropic. Why? Well, I had done my research before. I read several positive reviews on this product.
I was aware that it contains a blend of nootropics in the stack. I also talked to a friend who was taking Nootrolux Brain Boost for some time. So yes, I expected great results from this nootropic stack!
Even though I was very excited when my package arrived and I took 1 capsule in the morning as suggested, but nothing happened. Absolutely zero effect. It's like eating sweets. Or even worse – sweets are at least sweet. The next day was the same. And the day after that.
You know, I expected a strong surge of focus and concentration – similar to what happens if you drink coffee. But Nootrolux Brain Boost contains no caffeine or other supplements that could provide the kick. It works differently. It has an invisible effect on your body.
Not, at least until one day when you wake up and say: Wow, this thing works!

So, during the first week, I thought Nootrolux Brain Boost was a scam. It doesn't work. It's just not powerful enough as many people claim. But then….
Week 2
During the second week, something happened. It's hard to explain what exactly, but I could feel the difference in my focus and ability to concentrate and memorize sentences.
I've been studying for my test at that time and I still remember that memorizing became easier and easier. I often talk about how being objective is the key to providing real and useful information.
So, at the beginning, I hoped Nootrolux Brain Boost is my key to success – like the magic pill in the movie 'Limitless'. After I started doubting it, Nootrolux Brain Boost delivered some magic!
Week 3 & 4
I've got used to taking 1 capsules of Nootrolux Brain Boost in the morning. I usually have my breakfast that includes a cup of coffee and a sandwich. I didn't have much time during this period to train a lot, but I can tell you my body worked to the maximum. I was focused throughout the day, I felt like nothing can stop me.
My productivity increased to a level I didn't know before and while playing the dual-n-back game (which is my way of testing the effects nootropics), I couldn't but notice two things: How my focus improved and how I got better at the game.
It's hard to conclude if this happened because my memory improved or because my focus improved. Some people might say that I got better because I played the game more often. This could be true, but you cannot improve for a few levels in such a short period. Try it out yourself and you'll know what I'm talking about.
Based on my personal experience and experimentation, I believe that taking Nootrolux Brain Boost has positive effects on our cognition and memory. My level of focus dramatically improved during the test period. My productivity was at the peak, I became very efficient and I felt fantastic with a lot of energy.
I didn't notice any change in my mood while I have taken Nootrolux Brain Boost for several weeks. This nootropic does not contain caffeine or any additives. Thus, you don't get a surge of energy after you take it. But my ability to focus and concentrate was much better than before because I was better at things. And that's what matters more.
My personal dual-nback test has proved that taking Nootrolux Brain Boost does improve my performance, and that's why I'll continue taking it.
After years of experimenting with nootropics and testing other stacks, I can easily say that Nootrolux Brain Boost is a game changer!
Are the Ingredients Used In the Nootrolux Brain Boost safe?
Before I started taking any supplement, I checked either there were any additives or ingredients that could cause side effects.
Fortunately, this is an advanced and possibly the best nootropic supplement I have ever used. I am not in a position to say that nootropics are 100% safe for everyone.
We simply do not have enough medical trials to make such statements. Yet, current research suggests that natural nootropics positively influence our performance, plus it leaves no negative side effects.
Let's take a look at the ingredients inside Nootrolux Brain Boost
Bacopa Monniera – 120mg
This one is the major ingredient for increasing the attention. If you are trying hard to concentrate on a particular topic or task, the Bacosides in Bacopa will help you in becoming more attentive. The ingredient is derived from the leaves of Monniera plant. Once you take it, the brain becomes your true friend for memorizing and being attentive.
Huperzine A – 10mcg
When your meetings or lectures get dull and you need to stay alert, Huperzine A can boost your alertness. It comes from Fir Moss plants, a distant cousin of the typical moss. The most effective use of the ingredient is to create alertness.
Gingko Biloba – 50mg
The leaf of this particular plant is being used for centuries to get more speed and power. It boosts the blood flow to the brain. The brain gets the fuel and starts working faster.
Vinpocetine – 2mg
It is collected from Periwinkle. The ingredient is used in the best Nootropic supplement for adding more power in memory. Its long-term effects on the brain appear to help with age-related brain degeneration.
Phosphatidylserine – 125mg
Though the name is quite hard, the usefulness is awesome. It energizes the memory and lets you think more clearly. The ingredient helps restore levels needed for optimal cognitive function, brightens your mood, and mental energy.
St. Johns Wort – 250mg
The compound is an organic formulation for giving you the required mood. The ingredient is prepared from the flowers of a certain plant.
L- Glutamine – 150mg
The organic compounds are used for bringing back the Alpha level of your mind and increasing the blood flow. As a result, your memory, thinking power and focus operate at an optimum level.
Acetyl-L-Carnitine – 50mg
This is an antioxidant and neuroprotectant known for its strong nootropic properties. ALCAR also increases energy and alleviates the effects of aging.
Nootrolux Brain Boost vs Optimind
Several people asked what I think of Optimind, a well-known nootropic stack. Based on several reviews you can find on Google, most people prefer Nootrolux Brain than Optimind.
The major difference is that Optimind contains caffeine. Thus, you can expect a mild-to-medium energy kick which doesn't happen with Nootrolux Brain Boost.
But, when I first tried Optimind. I felt the formula was a bit underdosed. It was difficult to find out the exact formula of the product. So, both nootropic stack has its advantages and disadvantages.
Since I am a coffee lover, I don't need extra caffeine in my nootropic stack. I can get caffeine from my daily cup of coffee. As such, I'm a bigger fan of Nootrolux Brain Boost.
Nootrolux Brain Boost vs Alpha Brain
Alpha Brain is another popular nootropic stack used by many people. The company was able to market itself through several known ambassadors in the fitness industry. It offers a range of dietary supplements, fitness equipment and much more.
Based on my experience with Alpha Brain, I've seen several benefits including greater focus and productivity. The price of Alpha Brain is fairly the same compared to Nootrolux Brain Boost. But, the main difference is that we don't know the actual formula of ingredients inside Alpha Brain, and price tag is high.
Many nootropics users have pointed out that the nootropic effect of Alpha Brain is likely due to Bacopa, which is itself a nootropic herb.
Brain Boost Pros (+)
The supplements are well known and supported by a lot of research.
According to a neuroscientist, synapses are the master of your brain. The communication process among synapses gets smoother when you take Nootrolux Brain Boost.
Learn, study and write with more focus. I felt the ability to focus longer and my attention to details increase significantly.
This product really works! Even though the effects are not instant, you can feel the difference after one month.
I have experienced these typical advantages so far. There are more to unlock.
Brain Boost (-)
Is there any reason to avoid Brian Boost? As with any stack, there are some drawbacks.
As the product contains only natural nootropics, some users might complain at the lack of racetams or other powerful synthetic drugs. As someone who prefers natural supplements (with a few exceptions), this is not a huge issue for me.
Currently, you can only purchase Nootrolux Brain Boost directly from their website, nowhere else.
The price of the product at $34.95 for 30 capsules (1 month supply) is not cheap, as compared to other brain supplements you can buy on Amazon. However, some might argue that quality products come with a price, which I've pointed out regarding other popular stacks. Fortunately, you can save 15% if you subscribe monthly.
Where can you buy Nootrolux Brain Boost?
You can order it on the Nootrolux website here. They ship it to almost everywhere in the world. Some countries worth mentioning are the USA, Canada, Australia, EU countries and the UK.
Final Verdict: Is Nootrolux Brain Boost worth buying?
To make a short summary:
Brain Boost improves cognitive performance
Brain Boost is believed to be safe and contains 100% natural nootropics
Nootrolux Brain Boost had no negative short-term side effects when I was taking it
Nootrolux Brain Boost earns a place as one of the best nootropic stacks on the market. If regularly taken, it can surely improve and boost the brainpower. When you are in the middle of something difficult or needs your attention, start to take it regularly. The result will be significant and quick.
Ready to give it a shot? If you've tried Nootrolux, please let me know how it worked out in the comments below.
---
Some of the best nootropics for mental energy
About nootropics