5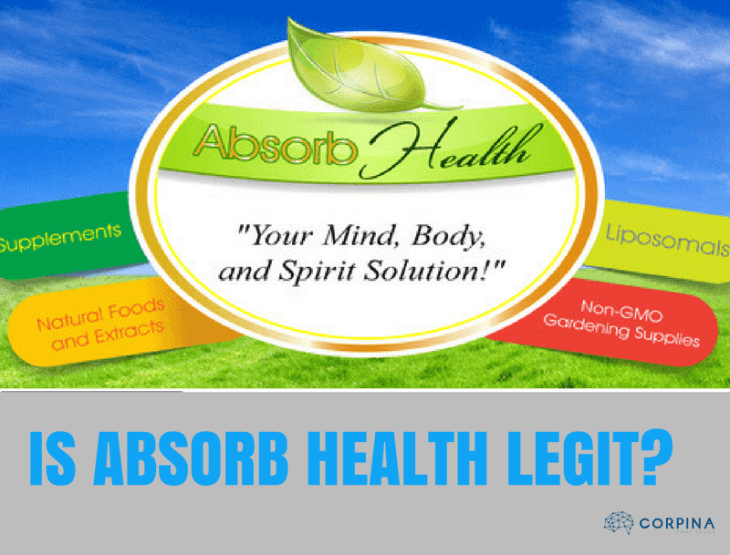 Is Absorb Health Legit?
Who is Absorb Your Health?
Absorb Health, otherwise known as Absorb Your Health, is a nootropic supplier with an uncertain reputation in the nootropics community.
The online nootropic community has spoken and they are satisfied but skeptical about this company and their practices.
Chances are, you have heard of them, if for no other reason than the fact that they rank high on Google's search engine and are often included with other reputable vendors in articles about powder and supplement availability.
Here we will explore the evidence for and against them vis-a-vis other sites that sell nootropics.
What follows is a fair and balanced assessment of Absorb Health compiled in an effort to provide our readers with as much information about this outfit as is possible.
Quality Assurance
Absorb Health was founded in 2011 when, according to the company website, the owner's wife fell ill.
Whether she had a serious life-threatening condition or a common head cold is hard to say. Having spoken with the owner, Josh Fulton, we do know that he commenced exhaustive research to find natural methods that would cure her.
What Fulton apparently realized was that natural products could be brought to market more affordably. Thus, Absorb Your Health was born as a response to a real-world crisis.
Their products are cheap, but are they high quality?
Absorb Health claims to obtain their ingredients from North America and other countries that have rigorous GMP standards.
Unlike many vendors in the nootropics space,  Absorb Health's provides their customers with a certificate of analysis or a seal that promises the product was carefully prepared and tested. In fact, after a fair bit of digging, I was unable to find a single product that was not third party tested.
So why does this matter to you and yours? Why not buy a supplement at one of Absorb Health's competitors for half the price, such as Peak Nootropics or Powder City / Nootrostop? Well, as is often the case, you get what you pay for in the world nootropics.
For instance, you might be able to find a pair of sneakers for under $30 at Kmart compared to the $50 you would've spent at a Foot Locker, but in six months when your Kmart sneakers' soles are straight talkin' at you, you'll probably wish you'd splurged on the real deal.
How can Absorb Health afford to charge slightly higher prices while still staying afloat in a hyper-competitive industry? Because (as is my experience) their quality is unmatched and customer service top notch.
The key to superfoods and supplements and their effectiveness is the habitat in which they were harvested and the lengths to which companies go to provide quality product says everything the consumer needs to know.
So when you hear that a supplement or powder has been fastidiously prepared in an environmentally-friendly facility and carefully lab tested, you are put at ease, knowing full well that you are getting what you paid for.
Absorb Your Health fulfills on that promise.
The AYH Marketing Model
I've come across a handful of reviews claiming that Absorb Health has shady business practices, pointing to either lack of proper analysis or certification, or aggressive marketing strategies.
Though I have not encountered either myself, it's important to be aware of these practices in the supplement industry, which is notorious for under the table dealings. With more and more regular folks turning to nootropics as a means to improve their health, it's important that they find high quality, reputable vendors.
A bedrock perusal of Reddit shows a mixed bag of reviews people have with Absorb Health for approaching a would-be customer base with internet marketing tactics.
And it's not just the naive and uneducated newbies that are susceptible to health supplement marketing. As one Reddit user points out in a scathing review of the company, reliable vendors must keep a close eye on the manufacturing of all their supplements:
"If you [the company] are not monitoring your encapsulation equipment and accounting for changes as the lot goes on, you will get variable weights. A good manufacturer will catch it, and account for it in their methods. A good vendor will do spot checks of their manufacturer."
Absorb Your Health open commits to checking on their manufacturers, evidently because they actually care about quality of product, not just luring in the newest rube on the block.
One reason this may be is that their business model is fundamentally about quality; a cursory review of their website shows that they do not cut costs to sacrifice quality, rather the opposite.
Whereas most nootropics vendors spend lavishly on frivolities like web design, AYH focuses on product. I can't stand how people get glossy eyed just because they see a pretty website.
Almost comically, the Absorb Health graphics and text are amateur — but they consistently deliver good product.
It is clear that Absorb Health focuses on advertising to more-educated nootropics users, so they avoid the kind of behavior normally reserved for snake oil salesman or the shameless nootropics hucksters.
Best Sellers
Absorb Health gives visitors a page of their best sellers and this one further reflects the customer-centric nature of their business.
Whereas many noot vendors push the "traditional" nootropics down our throat (eg, the racetams), AYH offers a few unique stacks for specific use cases, such as the Party Night stack for hangovers.
Party Night is billed as an anti-hangover supplement and Absorb Health's product description promises to vanquish hangovers, no matter the acuity. It's worth noting, the ingredients here are nearly identical to every other "hangover cure" on the market.
The key ingredient in the supplement is DHM and they say it has been demonstrated that DHM improves the liver's ability to process alcohol while diminishing the effects of alcohol on the brain, a fact verified by medical professionals.
This is an issue we see more and more with natural supplements and it's something that gives the noot game a bad name—You read all about the wonders of a nootropic supplement, but then you order it from one company not knowing that the ingredients are pretty standard.
When buying any stack, always check the label so you know what you're buying.
Customer Service
As we discussed above, Absorb Health makes a serious effort to legitimate market their products, instead leaning on forums and fools to peddle their product. They have no substantive social media presence, but rely almost entirely on word of mouth.
That alone, in my mind, is a vote of confidence for the site. Many nootropics brands are pushing products to Instagram models and fitness gurus. AYH is almost anti-marketing, letting the word spread organically and doing little else.
I was able to find some grievances on their Facebook page regarding Absorb Health's customer service response time and shipping abilities. So, as with any company, it's not all sunshine and rainbows.
To the question of Absorb Health's legitimacy? What do you think?
It is clear from the evidence above that Absorb Health is a reputable nootropics with a track record of satisfying their customers. Given this information, it behooves Corpina readers to give them a shot and see for yourself.
---
[catlist excludeposts=this template="div" conditional_title_tag="h6" conditional_title="Other nootropic vendors I have tested" id="168"]