1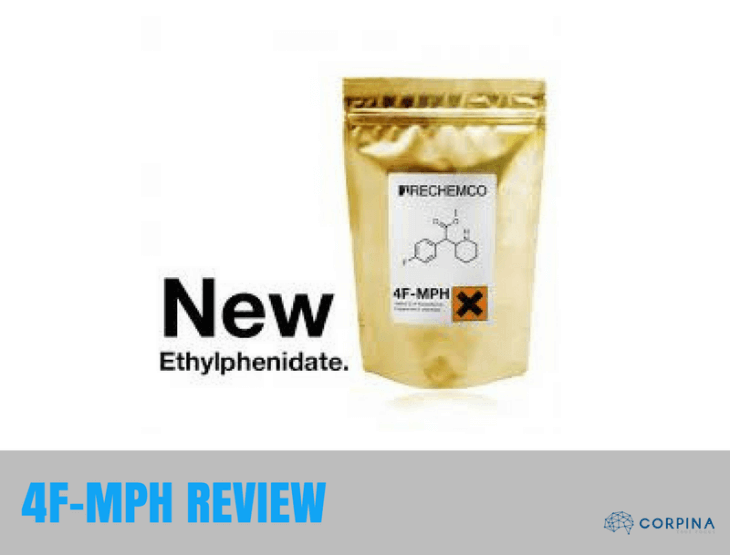 4F-MPH From Chemical Story (My Review)
UPDATE 2017: CS closed the shop (for now). They did say they would re-open but their website is gone and you cannot place any orders.
The pressures of life these days can bog you down both physically and mentally.
I know first-hand just how overwhelming balancing work, family, and lifestyle can be at times. I had zero energy or motivation to get through the day.
Stimulants like the 4F-MPH were not around when I needed them the most.
However, 4F-MPH has been giving many nootropics users the focus and energy they require without the harsh side effects or comedown of other synthetic drugs on the market.
Things to Consider Before Purchasing 4F-MPH
Stimulants such as 4F-MPH have been gaining popularity over the past several decades.
It seems new synthetic stimulants are emerging on the market faster than they can get banned. Most have harsh side effects and are mild at best.
The new 4F-MPH is like its predecessor methylphenidate, yet stronger. A little goes a long way with this new stimulant. [1]
While it is similar to methylphenidate (Ritalin), it has a euphoric feel, appealing to those who want to use it in a recreational capacity. [2]
Because this product is usually made to order, you may find yourself waiting a while to try it. If you're only looking for something cheap that can get you going for the next big exam or meeting, you should consider something like Adderall instead.
Before going out and buying 4F-MPH think about some of the following questions.
Does the supplier guarantee high-purity?
Is your tolerance high enough to take something like 4F-MPH?
What form will suit your needs the best? Powder or pellets?
Is it legal in your country?
Do you have any health conditions that could be affected by extreme stimulants?
Keep in mind 4F-MPH is a powerful stimulant that can have unpredictable side effects when taken in excess.
About Chemical Story 4F-MPH
Chemical Story 4F-MPH is a high-purity formula that was designed to be potent without the addictive properties of other stimulants on the market. [2]
One pharmacological evaluation states that 4F-MPH acts as a dopamine uptake inhibitor allowing your brain to feel stimulated. [3] The same study suggested that 4F-MPH has psychostimulant properties than traditional MPH.
If you're looking for a new stimulant that will provide you with hours of wakefulness, focus, and euphoria, in small doses, 4F-MPH might be your best bet. [2]
Pros:
Euphoric effects
Increase stimulation and energy
Four-hour half-life [4]
Low dosages for desired results
Increased sex drive
Most users experienced limited side effects
Cons:
Unpredictable behavior with large doses
Skin and eye irritant
Needs stored at 8 degrees Celcius (46 degrees Fahrenheit)
Not available in some countries
It's expensive
Benefits of 4F-MPH from Chemical Story
You should now have a better idea of what 4F-MPH is all about. Let's dive into some of the advantages of the Chemical Story 4F-MPH formula. You'd be surprised to learn some of the benefits of ordering from this particular company.
Take a look below to help determine if this brand will be right for your needs.
1. High Purity and Potency
At a 98% purity rate, you can be assured that Chemical Story's 4F-MPH is of the highest quality. Each batch is independently tested and verified to meet certain criteria.
Higher purity means the product will be more potent allowing even a small dose to do the intended job. When taking a high potency 4F-MPH, you should experience fewer muscle spasms, anxiety, and compulsive re-dosing than with a lower quality version. [2]
Other brands use cheap fillers that can leave you feeling bogged down afterward. Because 4F-MPH is not regulated fillers can range from a wide variety of harmful substances.
2. Quick Shipping
Nothing is more disappointing than wanting to try the latest and greatest stimulant on the market and waiting forever.
While Chemical Story isn't going to prevent you from sitting on your thumbs waiting for your 4F-MPH to arrive at your door, it should be quicker than most sites.
Chemical Story ships within 48 hours of confirmed payment (24 hours when paying via Bitcoin) so that you can get your research chemicals faster. They even offer several different forms of shipping so that you can track your package's travels through customs.
If your 4F-MPH never arrives, you might be able to get it re-shipped depending on the process you selected at checkout.

3. Three Forms of Payment
Chemical Story accepts multiple forms of payment aimed at your discretion and safety.
They accept payment through Bitcoin and have a real-time payment gateway compatible with smartphones. Payments with Bitcoin are fast, secure, and require no transaction fees.
You can also opt to pay with Amazon gift cards. However, it should be noted that there is a 25% markup when using this method.
Finally, you can choose to pay through Euro wire transfer (SERP). This option is less confidential but secure none the less. SERP transfers can take up to 3 business days to be accepted. Your 4F-MPH will not be shipped until payment is confirmed.

4. Up to Date on Country Laws
You won't be wasting your money when purchasing from Chemical Story. They won't ship (or allow you to buy) from a country that has banned 4F-MPH.
Chemical Story does not accept domestic orders from the Czech Republic. All orders are export only.
Reviews
After a close examination throughout the web, it's clear that 4F-MPH is becoming incredibly popular. Some are using it to get through their hectic lives while others are taking it for purely recreational purposes.
As more and more consumers are trying 4F-MPH, it's being produced by numerous manufacturers. Chemical Story has one of the highest scoring 4F-MPH on the market for potency and discrete delivery. In fact, people are adding positive reviews to their site daily.
Unlike other research chemical websites, Chemical Story doesn't hide behind fake or false reviews. Some sites direct you to the reviews of all their products even when you're searching for an individual product which can be deceiving.
Other sites that sell 4F-MPH
If you're still on the fence about choosing Chemical Story's 4F-MPH, there are plenty of other options. As 4F-MPH becomes more popular, many other research chemical sites are starting to sell it.
Let's look at a few alternatives to decide which brand of 4F-MPH that will work for your lifestyle.
1. RECHEMCO 4F-MPH
The 4F-MPH has gotten some great reviews from users. It comes in a bright white powder form similar to Chemical Story's formula.
Although the purity is stated to be higher than Chemical Story (99.05%), they are not independently verified.
Unlike Chemical Story, RECHEMCO does accept other forms of payment such as Moneygram, Visa, and MasterCard. They also accept Bitcoin and wire transfer.
Customers who are looking for a high-potency product that is up to date with national laws, this might be your best bet.
If you'd like to learn more about the 4F-MPH from RECHEMCO, you can do so here.
2. Get-RC 4F-METHYL PHENIDATE
Get-RC produces each batch of 4F-MPH to order making it a fresher alternative to Chemical Story. Theoretically, you'll get a cleaner feel from this manufacturer.
While this may seem like a good thing, it can also mean you're waiting longer for your delivery.
Get-RC claims that orders under 5g can be fulfilled faster due to the smaller contract synthesis. However, many customers were unhappy with the wait time.
If you are looking for a 'fresher' product and don't mind waiting for it, you might want to consider this brand.
Find out more about this alternative from Get-RC here.
3. Smokey's Chem Site 4F-MPH Pellets
Smokey's Chem Site offers 4F-MPH in only pellet form. They are ideal for those that have an aversion to snorting.
Pellets provide you with a slower release as they are absorbed into your stomach. You should notice less of an initial kick. However, the feeling of mellow euphoria should last longer.
Although Smokey's Chem Site is often out of stock when it comes to 4F-MPH, their customer service is always available to answer questions discretely. If you can get pellets from this brand, you might want to do so.
To learn more about Smokey's Chem Site Pellets, click here.
Closing Thoughts
Balancing work, family, and life, in general, can sometimes be overwhelming. Many people are turning to stimulants that have adverse side effects and a hard crash just to get through the day.
Stimulants like 4F-MPH can give you the boost you need while enhancing your mood. With a high purity version like the Chemical Story 4F-MPH, you can take a minimal dose and still receive the euphoric feeling.
Chemical Story is independently verified so that you know you are getting a quality product without added fillers.
Whether you decide to use 4F-MPH to get through your next exam, rock an interview, or simply have a great night out with some friends is up to you.
Sources:
---
Other nootropic vendors I have tested