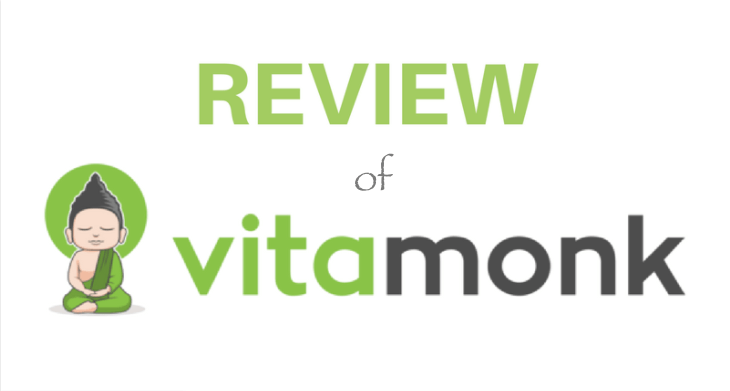 Vitamonk Review: Finally, A Nootropics Company That Gets It
This is my review of VitaMonk, an online nootropics store, and welcome surprise in the sometimes murky space of online supplements and nootropics companies.
Here, I'll explain what you can get through their website, and how their order process works, and a bit on the company values which is what can matter most.
As the popularity of nootropics and supplements roared upwards in the last few years, many companies have jumped in to grab their piece of the pie.
A common trend that I've observed, however, is that a large fraction of them operate like miniature laboratories that are more focused on the science than the customer. They provide analysis documents, pages of scientific literature, and an exhaustive amount of choices and variations for products.
The science is great (and important), but when it comes to buying supplements online, that's really not what everyone wants (or needs).
Most consumers care more about the simplicity of browsing, getting just the right amount of information about a supplement to make an informed decision, and having a company that you can trust to actually make science based formulas instead of the latest "all-in-one kitchen sink" formula.
Equally important is how the company treats its customers. Many small upstarts have quickly established themselves as top nootropics vendors thanks to extraordinary customer service.
A brand new company called VitaMonk accomplishes a great balance of all these elements.
They:
Provide a wide range of quality supplements (often with high doses and bioavailability)
Do extensive testing and are backed by some of the latest science
Have a simple ordering process
Provide extraordinary, fast customer service and shipping
In short: VitaMonk has arrived on the scene just in time to satisfy the interest of many potential nootropics customers.
Let's take a deeper look at VitaMonk, their products, and how they differentiate themselves in an increasingly-crowded sales space.
About VitaMonk
If you head over to their official website, VitaMonk describes itself as a premium supplement company dedicated to providing the highest quality ingredients to enhance human health – for both the body and mind.
If you visit their about page you get an even better insight into how the company works. I got to meet the founders in real life at a conference, and was super happy see that they appeared to be walking the walk.
You can see that they focus on:
Science Based Decisions. They are only making claims with science behind them, and opting to be quiet the rest of the time. Man I wish more companies would take this to heart instead of the general fluff.
That supplements are not "the answer", they must go hand in hand with a healthy lifestyle for best results.
That everyone has unique needs. There is no one supplement regimen that works for everyone.
Verdict: A trustworthy company that is very accessible and intuitive for novices, with still plenty to explore for educated optimizers.
A Broad Range Of Interesting Products
Whenever I learn about a new supplement company, the first thing I am excited for is the chance to see new products that I've never tried or heard of before.
More often than I'd like, I see some of the same products appearing again and again in every supplement company I come across. Usually, they are just junk private-label kitchen sink products.
This isn't the case with VitaMonk.
Sure, they carry familiar staples of any nootropic stack such as such as Alpha GPC and Uridine (I wouldn't expect them not to). But they also carry some exciting products you don't see all that often, like an adaptogen blend and pterostilbene.
As of late 2017, there are a few dozen items available in their web store – enough to give you several options for each area of interest, without becoming too exhaustive, confusing you what to buy.
The uses for VitaMonk's listings range from general health supplements to enhancing physical performance, longevity and a few well-known nootropics.
Each of their products features a sidebar with information on the uses and effects of the substance being sold.
(We'll dig into some of the specific supplements they offer below)
Verdict: VitaMonk carries a broad range of products – both the necessary staples of any stack, and some interesting products that are hard to find elsewhere. They offer multiple supplements for every area of interest.
The Essential Nootropics
VitaMonk is not solely a nootropic company; they offer a wide range of supplements for your overall health, longevity and physical performance.
While they do offer some of the essential nootropics that are generally used in stacking, they don't have as wide of a range of nootropics as companies who specialize in them do.
Still – they have quite a few interesting supplements specifically created to enhance your cognitive powers and keep your brain in tip-top shape.
Possibly one of the more interesting products to the Corpina audience is Uridine Monophospate, which alongside with Alpha GPC and fish oil is the core component of the Mr. Happy stack that was developed on a Longecity thread in 2011. It helps facilitate memory, retention and mental performance.
Alpha-GPC alone is a common adjunct to racetam use, acting as a choline donor while the brain is burning through it at a heightened rate. It promotes mental performance and focus.
Plus, they offer Magnesium L-Threonate, which is used to calm the nerves and strengthen memory through NMDA receptor antagonism.
Those are just a few interesting nootropics I spotted, but there's a lot more.
On their site, I've seen nootropics enhancing everything from focus to mental clarity, motivation, mental speed, creativity, mental sharpness, memory recall, relaxation, energy and lifting your mood.
Verdict: Overall, VitaMonk's nootropics are not terribly niche or groundbreaking, but they all have their use cases and could make a worthy addition to your nootropic stack.
Many Health & Longevity-Boosters
Many of VitaMonk's products are geared towards keeping you in optimal health for as long as possible.
They have quite a few products that seem to be created to keep you young and healthy longer – with some offering very interesting longevity, anti-aging & life extension potential.
If you want to dive deep into experimental life extension, VitaMonk has created their own longevity product, Longevify.
They suggest it contains a targeted long-term dose of some of the best known ingredients around for longevity. It contains PQQ, Phosphatidylserine, Resveratrol, Pterostilbene, Grape Seed Extract, Turmeric, Alpha-Lipoic Acid – many of these have shown great promise as AMPK activators, antioxidants, REDOX agents or health and longevity boosters in scientific studies.
VitaMonk offers a whole bunch of single-ingredient longevity products as well for those who don't like a blend. Choices like Pterostilbene (kinda a super-charged blueberry antioxidant) capsules, one of which adds on a resveratrol complex (the good stuff from red wine). Both of these options are potent free radical mops and AMPK activators, which can help mitigate cellular damage during metabolism.
They also carry the hardcore fitness nerd favorite Cissus Quadrangularis, a supporter of joint, tendon and ligament health and even has a hormone modulating effect reducing cortisol when needed.
Verdict: There are a ton of products on their site that boost your health and longevity in some way, so if that's what you're looking for – I recommend you to check it out.
Physical Enhancement & Hormone Support
VitaMonk's selection has a sizeable emphasis on hormone support products, and other products that are in some way related to enhancing masculinity or physical physique.
These hormone support products make sense to consider even for nootropics users, since drugs such as the racetams rely on the presence of steroid hormones in the body.
Those who are looking into ways of boosting their testosterone levels should take a look at the Fenutrax™ Fenugreek extract or TestoTrax™ Testosterone booster, and Pregnenolone for all-around steroid hormone support which can be for everyone from menopausal women, to biohackers, to aging men wanting to maximize their hormone levels.
Verdict: Without going too much in-depth, VitaMonk seems to offer many supplements that enhance your physique and athletic performance.
Pricing
One thing I noticed very clearly right away was how reasonable VitaMonk's prices are. They seem to be the sweet spot of having solid prices better than most without being too cheap that you question the authenticity (plenty of the really cheap supplement companies make fake or inaccurate products).
I've been to supplement sites where you could easily rack up hundreds of dollars worth of items in your cart with bulk powders, crazy concoctions, and tablets of questionable legality.
Not at VitaMonk.
Last time I checked, no single product at VitaMonk is listed at more than $31.99.
In addition, VitaMonk seems to in fact undercut a lot of competitor's products in terms of pricing!
On Amazon, their Magnesium L-Threonate, Uridine, and Alpha-GPC prices all matched or beat their competitors' prices, at the time of writing.
Not to mention, the fact that they are listed on Amazon is a very convenient way to purchase their products.
No doubt, the friendly pricing is an excellent way to lower the barrier to trying new supplements, especially for those who are new to the game.
Verdict: VitaMonk's supplements are either cheaper or match the same price of the competitors. These low prices make them a great place to buy your supplements.
Simple, Quick Checkout Process
Another nice thing about VitaMonk is that their order process is really simple.
If you end up buying from VitaMonk through their website, it's a very quick process that requires minimum fuss. It's almost like buying through Amazon.
Plus, you don't even have to have an account to start with. After checkout, they will simply email you saying that they made one for you!
After adding some items to your cart through the VitaMonk site's 'Buy Now' buttons, you can choose to check out with either PayPal or a credit card.
The option to checkout with PayPal is especially convenient, as it can automatically import your shipping and billing information.
Ordering my supplements was a breeze, and took me a few minutes max.
Verdict: Ordering supplements through VitaMonk is a very quick and simple process that takes you only a few minutes.
Very Fast & Cheap Shipping
Shipping is also a very simple matter at VitaMonk.
All orders with a total of $35 or more ship for free, and a flat $4 otherwise.
Also – shipping is very fast. As a test, I ordered a product from the official site, and had my bottle of pills in the mail two days later!
That's a lot faster than many of the other online stores where I've bought supplements in the past (sometimes waiting for over a week).
I am guessing that their products' availability on Amazon prime has to do with it – there might be some sort of connection.
Either way – shipping is very fast, and I'm glad for it.
Verdict: Shipping is very fast. My order arrived within two days.
Do I Recommend VitaMonk?
So – is VitaMonk a vendor worth buying from?
My answer is a clear yes.
You can't really go wrong with what VitaMonk offers.
They might not have all the obscure dicey nootropics you're looking for if you're a true diehard.
But they offer a wide range of commonly-available yet interesting supplements, tagged with very reasonable prices and rapid shipping.
I wish they had a slightly larger product selection, but I've steadily seen them launch new products over the past months, so I think that will only be a matter of time.
For your general supplementation needs, they will cover a good amount of your bases. For nootropics, they'll give you a few of the core staples you might be looking for.
Conclusion: An Excellent Choice For Your Supplements
VitaMonk is an excellent choice for your supplement shopping needs, whether you're new to nootropics or are looking for a nice variety of support substances for your other regimens. Let's review some of the pros and cons mentioned above:
Pros (+):
Transparency. This is huge.
Solid range of supplements, mostly cutting edge nootropics and anti-aging supps.
Useful for health, mental and physical performance
Scientifically backed
Nice website with simple, quick checkout process
Fast shipping
Cons (-):
I wish they had carried more nootropics.
They don't have some of the more niche products.
The company's website is simplified and easy to use, providing a good amount of information about each nootropic listed.
They're a solid choice, especially for a company founded just a short time ago. I will continue to buy supplements from them, and keep an eye out for new products offered.
Check out VitaMonk's Supplements Here
---
Other nootropic vendors I have tested