1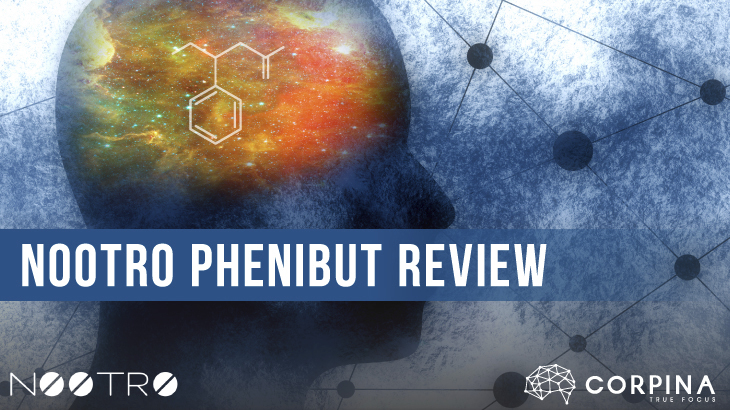 Review of NOOTRO Phenibut
Update 2020: NOOTRO closed. Check this article on your options to buy Phenibut.
A few months ago I received this email:
Hello,

I am Dziugas, the CEO of "Monotheta", LLC, which owns the brand NOOTRO. I sell various nootropics, research chemicals and SARMS on eBay and my site. For the last year I`ve been doing very well on eBay, however I lost my top supplier status, because eBay was very aggressive against nootropics sellers, so I decided to focus more on my own shop.

That is why I am writing this email to you, I would like to ask you whether you would be interested in a partnership deal with me? I could send you some samples to review and you could possible write an article about my service and products.

Thank you,
Dziugas
New Phenibut supplier? Yes, please!
NOOTRO – Are They Legit?
NOOTRO is an online shop that sells various nootropics, cognitive enhancers, and research chemicals. Their selection includes Phenibut, Noopept, Oxiracetam, 9-Fluorenol (Hydrafinil), MK-677 (Ibutamoren), Fasoracetam, S4 (Andarine), Coluracetam, GW-501516 (Cardarine), Alpha-GPC, and more. They claim that all their compounds have been tested and verified for potency and purity; you can find a certificate of analysis on each product page.They ship from Europe (free shipping on orders (free shipping on orders above € 50), and their prices are in Euro.
I asked what made them better, and what was different about their shop.
My pricing and quality is almost the same as other suppliers because there are only a few reputable manufacturers of nootropics, so I wouldn't be surprised that my competitors actually get their products from the same laboratory. I know for a fact that our products are pure, because we tested them in Vilnius University laboratory, though those graphs are quite hard to understand and don't tell anything for an untrained eye.

I ship from inside the EU, so people tend to trust my shipments more. They arrive quicker and with less issues than from abroad.

On eBay even american buyers preffer my products over their suppliers, because of the professional service and quality I provide. Also, out of around 500 sales on eBay only one package has been rejected by the customs, as far as I know, this is one of the lowest ratings possible. I can give you a link to my eBay, so that you can see all off my feedback.

One of the main selling points in my opinion, is my flexibility. I can sell both small and bulk orders, ship combined or seperate and even capsulate their products for them. A few customers actually found this service very helpful, because they could stack all of their nootropics in a single capsule. Also, in the near future I plan to purchase a laboratory grade tablet press, which would be verg beneficial in making high quality, long release tablets for extended duration nootropics.
NOOTRO Phenibut Review
I asked NOOTRO if they would be interested in running a giveaway: 10 Free Phenibut Packages (0.9 oz / 25g each) to anyone who is willing to write a detailed, thorough review of their experience.

398 people entered the giveaway, 10 winners were selected.
Below you will find reviews on their experience with Nootro's Phenibut.
Pheni-What!
review by NooGuy.
My experiences with pheniB are generally positive. I'm very high strung, anxious & restless, so I take etizolam to combat this.
Take that into account in regards to this review, & more importantly if you use benzos & intend on trying phenibut.
I found that a fraction of the average pheniB dose works well due to the etiz in my system, & in fact i occasionally forget about taking it (etiz), after dosing phenibut. In other words, I didn't feel the need to take it & was so comfortable that it slips my mind. But that's me.
If you're looking for a quick way to more accurate dosing without a scale, just buy empty capsules & cap it yourself. Size "0" caps are 250-300mgs, size "00" hold 500-550mgs & "000" caps roughly hold 1 gram. If you don't like super citrus tastes, get some caps. I go to PipingRock.com for the caps & a filling machine, but I never used the machine once! Its a ritual capping up your own medicines, supplements.
So my review might not help everyone, but for those who take benzos, tranquilizers or any cns depressants, it's a warning to start low doses until you know how it affects you. I only use it at night for sleep & a good mood the next day, but not every night & not exclusively at night. It also keeps me cool, I respond to things instead of reacting like a maniac, & I'm just realizing that when I'm relaxed with this chem, I actually can focus more on other things because the distractions are dampened. I was drawn to phenibut after being introduced to nootropics, however that was a yr ago & I never got to it until NOOTRO was kind enough to offer me a free sample to review.
Effectiveness:

(

5

/

5

)

Side Effects:

(

5

/

5

)

Value:

(

5

/

5

)
Powerful neurological chill-pill
review by LiveInTheMind.
I spent the summer working at a fish processing plant in Alaska, working on my feet for up to 22 hours a shift, so I needed something to help me keep going. I think phenibut is one of the sine qua nons of my completing the season. This is a very powerful anxiolytic, and it really calmed down my keyed-up mind. Initially, before I got a milligram scale, I just stuck my finger in the bag and eyeballed how much powder I was taking. I really like that, because it basically switches on the "relax" circuits in the brain, I found I didn't need to sleep as long to feel well-rested. One problem I have is that I have to take a fairly big dose (~500mg) to get strong effects, so I run out fairly quickly unless I take it only once or twice a week. Also, it's highly acidic, so caution if you get cavities easily. That being said, I'm quite satisfied.
Effectiveness:

(

4.0

/

5

)

Taste:

(

4.0

/

5

)

Side Effects:

(

5.0

/

5

)

Value:

(

5.0

/

5

)
Needed more directions!
review by Ambler.
I never experienced an effect of this product.
I don't know that I was taking the proper dosing. There were no instructions for dosing, so I was conservative.
Update:
Well I have changed my mind! My first impression and review was irrelevant because I wasn't taking an adequate amount. I have never taken phenibut in a loose powder form. So I was very conservative with the dosing. I did not take enough to have any effect. Once I did take the correct dosing (4x more than I originally did). The response was night and day. I was so relaxed I fell asleep sitting straight up mid day. Thank goodness it was a lazy day off work. It lasted for more than 8 hours and didn't leave me groggy the next day. I did however have a headache the following day.
Effectiveness:

(

5.0

/

5

)

Taste:

(

3.0

/

5

)

Side Effects:

(

3.0

/

5

)

Value:

(

3.0

/

5

)
Hard Side Effects!
review by Mux.
I like phenibut that let me to be more sociable, but these side effects is not too good, pain in knee articulations, some inflammatory process was identified too, I had a disease on the urinary system.
Effectiveness:

(

5.0

/

5

)

Taste:

(

2.0

/

5

)

Side Effects:

(

1.0

/

5

)

Value:

(

3.0

/

5

)
Great for stress
review by Andre.
Had done a bit of research on Phenibut before receiving the sample and it was everything it was supposed to be.
First the bad: As was to be expected, the taste was terrible. If you use a full 10-12oz of water you can mitigate it somewhat but not entirely. I wound up just putting my dose in a shot glass with a bit of water and pounding it with a water chaser.
Now the good: I have my first baby on the way and I've been stressed to the max trying to prepare. Phenibut has been a great way to relax without leaning on alcohol. It has allowed me to remain calm and clear headed which I need as I work 2 jobs to prepare for my new baby.
If you are like most of us these days (working your fingers to the bone to provide for your family) this will be a welcome tool in your belt. Lower stress, better decision making and a generally better mood throughout the day.
Effectiveness:

(

5.0

/

5

)

Taste:

(

2.0

/

5

)

Side Effects:

(

3.0

/

5

)

Value:

(

5.0

/

5

)
Best, most consistent I've had in years
review by Ryan.
I've used phenibut on and off for several years now. I've tried a lot of them. A few of them haven't done a thing, and most have been serviceable. NOOTRO's is top two among them in consistency and works wonderfully. The other one has been off the market for a few years now.
When I know I'm going to be having a period of time when I may have difficulty sleeping or stress will be running high, I won't be looking anywhere else for my GABA needs.
Effectiveness:

(

5.0

/

5

)

Taste:

(

3.0

/

5

)

Side Effects:

(

5.0

/

5

)

Value:

(

5.0

/

5

)
Good stuff
review by DungHaddy.
Great stuff, good quality Phenibut. Noticably better than the product I had before, which sadly was some sort of knock-off so I had to take way more than I do with good purity. This one is the pure kind and worked great.
Effectiveness:

(

4

/

5

)

Taste:

(

4

/

5

)

Side Effects:

(

4

/

5

)

Value:

(

4

/

5

)
Good drive and love magic
review by Ranidf.
I'm a single, middle age guy open for love and romantic experiences. The Phenibut helps me greatly by creating a magic vibe around me that attracts very beautiful girls. I have no idea how it exactly works, but it seems like I can hypnotize (or maybe a better word would be "induce") a group of people into happiness, love and openness. For some reason, for me it works best on complete strangers. It's not uncommon that people invite me into their houses and parents cooking me food while their daughters hugging and kissing with me. Once Phenibut magic ceases several hours later, people are scratching their heads. Like what the hell happened? Why they have invited a complete stranger into their house, allowed their daughter to hug and kiss?
In few cases, it really clicks, and then Phenibut produces long-term romantic/friendly/love relationships even after the Phenibut stopped working.
Best taken once a month if you intend to take it for at least a year and want to get every time the same effects as the first time. I have been taking Phenibut at about 1.5 grams once per week (that's too often for a long-term) and other great effects disappeared (great euphoria, incredible happiness and feeling of freedom, music sounding great), however thanks God the magic effect still remained and even peaked.
God Bless the Russian scientists who invented Phenibut!
Effectiveness:

(

4.0

/

5

)

Taste:

(

3.0

/

5

)

Side Effects:

(

3.0

/

5

)

Value:

(

4.0

/

5

)
My go-to to chill me out and for restful sleep
review by rastacane.
I was looking for something to take the edge off and get me in a relaxed mood after a typical hard charging day at the office. NOOTRO Phenibut hit the spot, and is of top notch quality.
Benefits I felt include:
improvement in mood;
marked decrease in stress and anxiety (as a worrier this was well received);
increased confidence in social situations;
easier to fall asleep, and very restful sleep.
Be careful not to overuse it though. I purposely did not take it on consecutive days, as not to develop a tolerance or addiction to it. YMMV, so experiment with a dosing schedule that works for you. If you want to improve your mood, suffer from social anxiety, need a little confidence before a social event or speaking engagement, or want more restful sleep, NOOTRO Phenibut will hit the spot.
Effectiveness:

(

5

/

5

)

Taste:

(

5

/

5

)

Side Effects:

(

5

/

5

)

Value:

(

5

/

5

)
Our Verdict
Effectiveness:

(

4.6

/

5

)

Taste:

(

3.2

/

5

)

Side Effects:

(

3.7

/

5

)

Value:

(

4.3

/

5

)
If you'd like to give NOOTRO Phenibut a try, you can it here:
---
[catlist excludeposts=this template="div" conditional_title_tag="h6" conditional_title="More on Phenibut" id="41" tags="using"] [catlist excludeposts=this template="div" conditional_title_tag="h6" conditional_title="Where to buy" id="41" tags="buying"] [catlist excludeposts=this template="div" conditional_title_tag="h6" conditional_title="Phenibut vs other products" tags="phenibut-vs"]