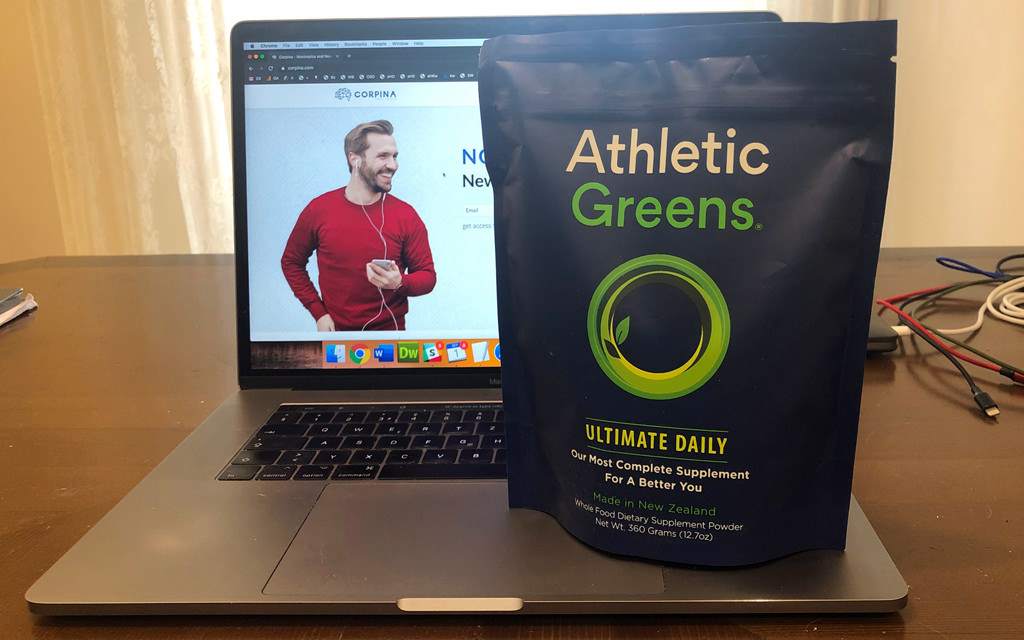 Athletic Greens Review
As a health and nutrition blogger, I've been wanting to try Athletic Greens for a while now.
I first heard about this "superfood powder" from Tim Ferriss – he says that if he had to pick only one supplement to use, it would be Athletic Greens. I then heard other famous people (Joe de Sena, Dagmara Wozniak, Tommy Baker, and Dr. Rajan Chatterjee, are just a few ambassadors of this "superfood drink") boast about how this is the one and only superfood supplement everyone who cares about their health and nutrition should add to their diet.
"A must for optimal performance," "the most nutrient dense food supplement," "all-in-one nutritional insurance," "helps me to get the most out of your mind and body"…
Sound too good to be true? I had to find out!
So last month, I purchased a one-month supply of Athletic Greens to discover for myself whether this green powder supplement lives up to the hype.
Oh, and in case you didn't know…
Reviews are not always written by people who have actual experience with the product. Sometimes they are written by someone who has just pieced together information from other sites and resources.
This one is a real and genuine Athletic Greens review.
And how do you know it's a genuine Athletic Greens review?
It's easy once you know what to pay attention to.
Genuine reviews will not sound like a sales pitch in tone and language. It will tell you things the way they are experienced, and will not try to convince you to buy anything.
Genuine reviews will include real pictures – not stock product pics downloaded from the internet.
Genuine reviews will have plenty of little details about things like taste, texture, color, smell, etc.
Here is what my bag looked like:

Please, bear with me – photography is not my strong skill. I just snapped these pics with my phone and did not realize they were not that great until I saw them later on my computer.
So, what do you get for your money with Athletic Greens?
Let's find out.
First Impression
When I try a new product, it is very important to me that the directions are clear. I'd rather not let anything go to waste just because the manufacturer didn't clearly lay out how their product should be used. Athletic Greens had the directions on when and how to use their powder, front and center.
I opened the package and mixed it in with a glass of water. As per the directions, I stirred for 20 seconds, and it mixed quickly. I didn't get any chunks or unmixed portions. This was good news – I'm too lazy to use my blender, so I probably would not even finish the monthly supply if the powder did not mix well.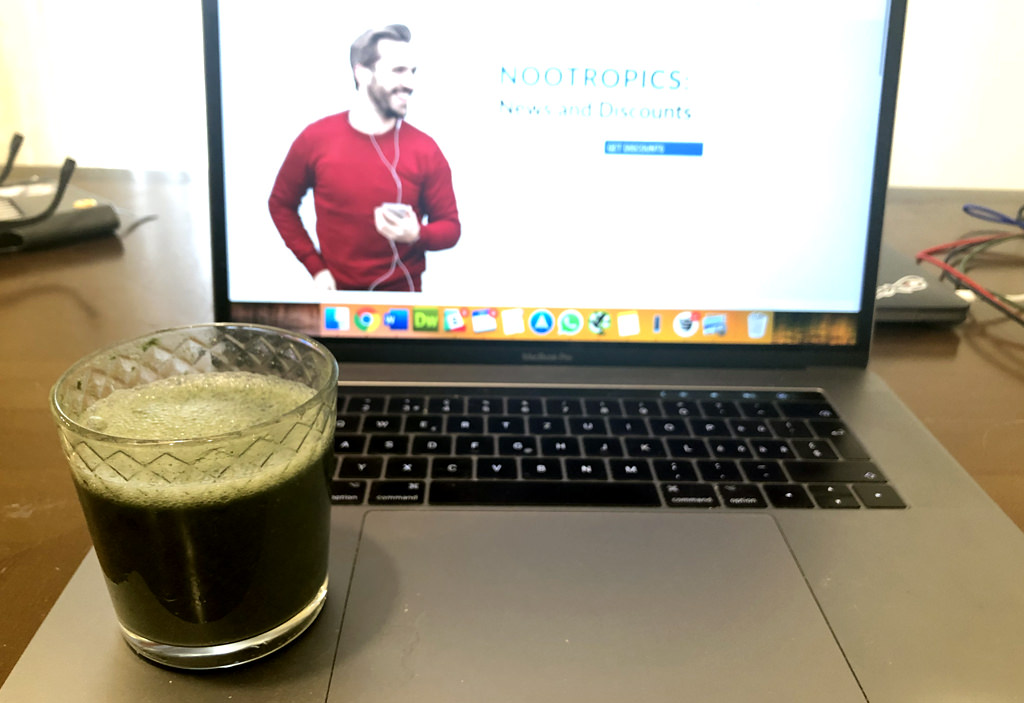 I was going to pinch my nose for the first drink – just in case the smell is gross. But that wasn't the case. The taste and smell were more than tolerable and I even enjoyed the experience as a whole. I'm sure part of that had a lot to do with the thought of doing the right thing for my body, and all of the health benefits that come with taking quality supplements.
In short, my first impression was impressed. I was looking forward to continuing the superfood drink to see if any real health benefits came from it.
What Are Athletic Greens?
The company and the product name are one and the same: Athletic Greens. Being on the market for almost 10 years, Athletic Greens is one of the most well-known green superfood powders available today.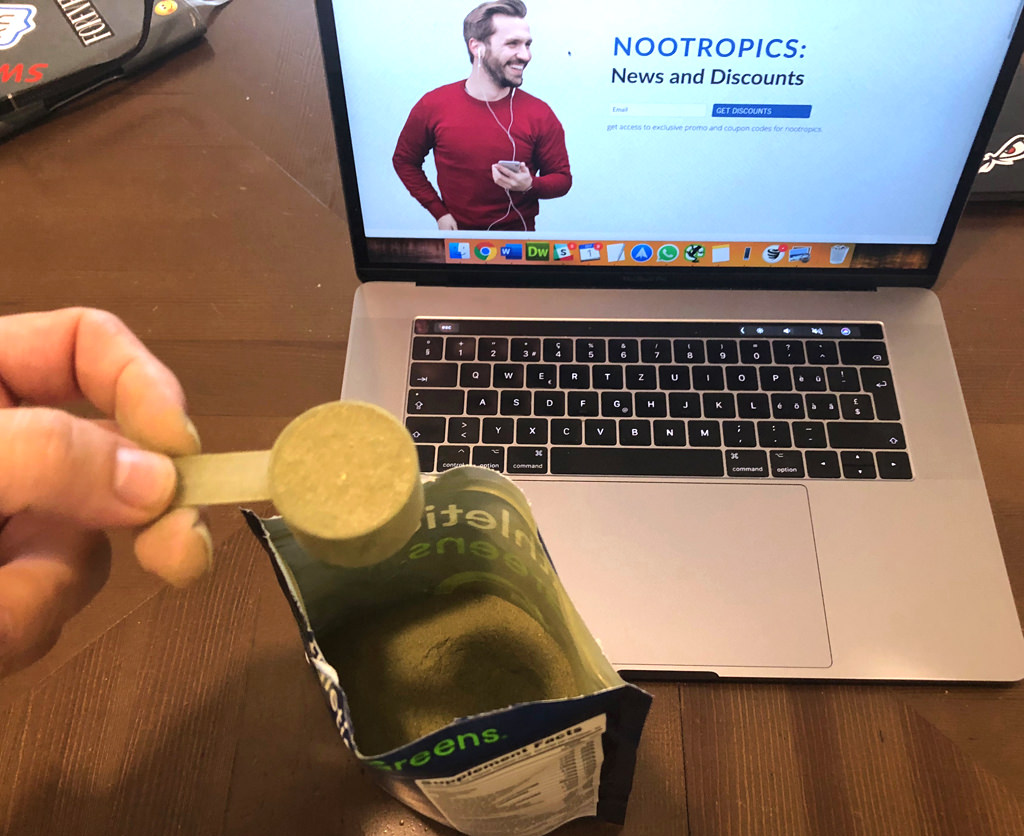 The company boasts of the obsessive research they do to provide their customers with the absolute best and safest greens product on the market. They claim they research each ingredient to include the most optimal amount needed for absorption and synthesis in the body.
I've researched Athletic Greens, and it seems they try to stand apart from their competitors.
Here are a few things I thought were worth noting:
Comprehensive Nutritional Support
They promise that their supplement provides you with comprehensive nutritional support in 5 critical health areas: digestion and gut health, immune and nervous system support, energy, healthy aging, and neural support.
GMP Certified & TGA Registered
They have taken steps to ensure their products are safe by completing and maintaining their GMP (Good Manufacturing Practices) certification and TGA (Therapeutic Goods Administration) registration.
Giving Back
They teamed up with two organizations that work to enrich the lives of some of the world's poorest and forgotten – Mary's Meals (provides meals to children in school) and Urban Light (education and health services to male victims of human trafficking).
Guarantee
They give you a 60 days, no questions asked, money back guarantee. The product can be returned for a refund within 60 days of receiving, whether it is open or unopened.
Benefits of Athletic Greens
Athletic Greens claims to have done the research to determine the top vitamins and minerals necessary to fill in the most common nutrient deficiencies and added them to their product.

As with any dietary supplement it is just that, a supplement. It should not replace a balanced diet, but enhance it. Still, I do appreciate the peace of mind that comes with knowing my diet has no nutritional gaps.
So, what exactly am I getting with this amazing green superfood?
Antioxidant content of a greens shake is arguably the most beneficial component. Antioxidants are essential for slowing cellular damage in our bodies which can lead to early aging, oxidative stress, and chronic conditions like cancer and diabetes. While Athletic Greens has not quantified the antioxidant content of their shake against a food sample, like a cup of blueberries, you only have to read the nutrition panel to get a taste for how well it measures up. Vitamins C, A, and E are well known for their antioxidant properties, and additional ingredients of wheatgrass, chlorella, cocoa bean polyphenol, spirulina, green tea leaf extract, and grape seed extract make this supplement an antioxidant powerhouse.
Adaptogens is a term that is becoming more well known in the health industry, for good reason. Adaptogens are natural substances, often found in herbal remedies. Their role in living plants is to help them adapt to stress and bring about homeostasis. Lucky for us, adaptogens work the same way in our bodies, helping us reach homeostasis and respond to stress in a healthy way. It is no surprise or secret that stress causes a host of negative health complications, some seen and some unseen. Astragalus and ashwagandha are two adaptogen ingredients that are added to Athletic Greens, to boost its health impact and help bring balance to your body and mind.
Dairy Free Probiotics & Zero Allergens is a promise Athletic Greens makes to their consumers. In today's health climate, the rate of gastrointestinal issues and food allergies is reaching an alarming high. Probiotics are an effective way to address many gastrointestinal illnesses that we face today. The supplement includes some dairy-free probiotics like lactobacillus acidophilus and bifidobacterium bifidum.The formulation should work pretty well for just about any dietary pattern or intolerance since the greens drink is free from gluten, dairy, corn, egg, peanuts, lactose, dextrose, sucrose, animal products, herbicides, pesticides, preservatives, artificial colors, flavors, and sweeteners. It is also non-GMO.The purity of their ingredients is almost too much to list. Because of this attention to purity, keto dieters, vegans, people with food sensitivities, and paleo eaters should have no issues with this greens superfood.
Digestive Enzymes have been added to support gut health. Digestive enzymes work to support gut health and proper digestion. Astragalus root, reishi mushroom powder, shiitake mushroom powder, burdock root powder, and bromelain are the primary active digestive enzymes in the supplement.By supporting digestive health, Athletic Greens is addressing many common concerns like immune health, digestion, gut health, and liver support.
Bioavailability is another important element to keep in mind when it comes to dietary supplement-type products claiming to provide health benefits. Bioavailability is the amount of a product that is actually absorbed to produce the health outcomes it claims to make. Athletic Greens claims they have taken the time to research each ingredient for optimal absorption and benefits to ensure "high bioavailability" in the ingredients they use.
Nutrient Density, which means the product has a high nutrient-to-calorie ratio. I watch my weight, and want no empty calories. Some other greens and shakes have the appearance of being nutrient dense, but they slack on important vitamins and minerals that add benefits while focusing primarily on protein. But I take care of my protein needs already with a grass-fed, whey protein powder, so if I take a supplement that claims to be a "green superfood powder," I want it to be more than just protein and calories.
How to Take In Athletic Greens
The supplement is available in 12 gram (0.4 oz), single-serving, individual packets.
The directions are quite simple:
grab a glass, or a shaker
add 6-10 oz of cold water
add one heaped tablespoon of powder into water
stir for 20 seconds (or shake, if using a shaker)

You can also mix with another beverage (juice, smoothie, or even a soup), but water (as well as consumed in the morning, before any other food or beverage) is best if you want the greens to have the most absorbency without competing with other nutrients in the gut.
Athletic Greens Ingredients
Athletic Greens claims to use only the purest and most trusted ingredients for their greens product. This shake is made from 75 ingredients that have been safely sourced and tested for the highest rates of bioavailability possible.

Why should you care?
Well, quality is a very important factor to consider when selecting the right nutritional supplement for your health regimen. It is quite simple to put together some healthy ingredients and market them as "the best green superfood supplement." But it's not simple at all to actually create the best green superfood supplement.
And I was quite impressed with the quality of this supplement. The company definitely does not sacrifice quality for quantity. The ingredients for their products are all grown and sourced in New Zealand using non-GMO practices and excluding common environmental additives like pesticides.
The list of 75 ingredients claims to be the antioxidant equivalent of 12 servings of vegetables in just one serving of the greens powder.
Let's see what this superfood blend is made of.
Athletic Greens has two primary proprietary blend panels. I've listed a few of the more important ingredients in each of the proprietary blend categories below.
Alkaline, Nutrient-Dense Raw Superfood Complex

Green tea – This ingredient is included to assist with anti-inflammatory and antioxidant benefits.
Organic Spirulina (blue-green algae) – At 70% protein, this biomass of cyanobacteria is filling and antioxidant rich.
Slippery elm bark – This herbal medicine is antimicrobial, supporting gastrointestinal and urinary health.
Organic chlorella powder – This genus of single-celled green algae is detoxifying, improves weight loss, and supports the immune system.
Organic barley leaf powder – Barley grass acts as an antioxidant and supports digestive and cardiovascular health.
Organic wheatgrass powder – This powder, made from freshly sprouted leaves of the common wheat plant, provides chlorophyll to the body, boosts your metabolism, and is antibacterial to support gut health.

Nutrient Dense Natural Extracts, Herbs & Antioxidants

Milk thistle – This species supports liver health, is antioxidant rich to fight cancer cells, and controls glucose levels.
Rhodiola Rosea – This flowering plant is heart healthy and increases energy and mood.
Ashwagandha – This plant is antioxidant rich to fight free radicals and controls glucose.

Digestive Enzyme & Super Mushroom Complex

Astragalus root powder – An adaptogen that has anti-inflammatory properties and boosts the immune system.
Reishi mushroom powder – Enhances mood, improves the health of multiple organ systems, and promotes healthy blood pressure.
I like how Athletic Greens is being transparent on what all has been added to their shake – many of their competitors do not do that.
Why should you care?
Because some supplement companies will add ingredients in such miniscule amounts that it makes very little positive nutritional impact (or none at all!). And to hide that, they will not list the amounts of the ingredients on their label.
Taste of Athletic Greens
To my surprise, I found the drink to be not just tolerable, but quite enjoyable. I was expecting a taste of wheatgrass or seaweed, but those were very subtle, and overall the shake tastes fine.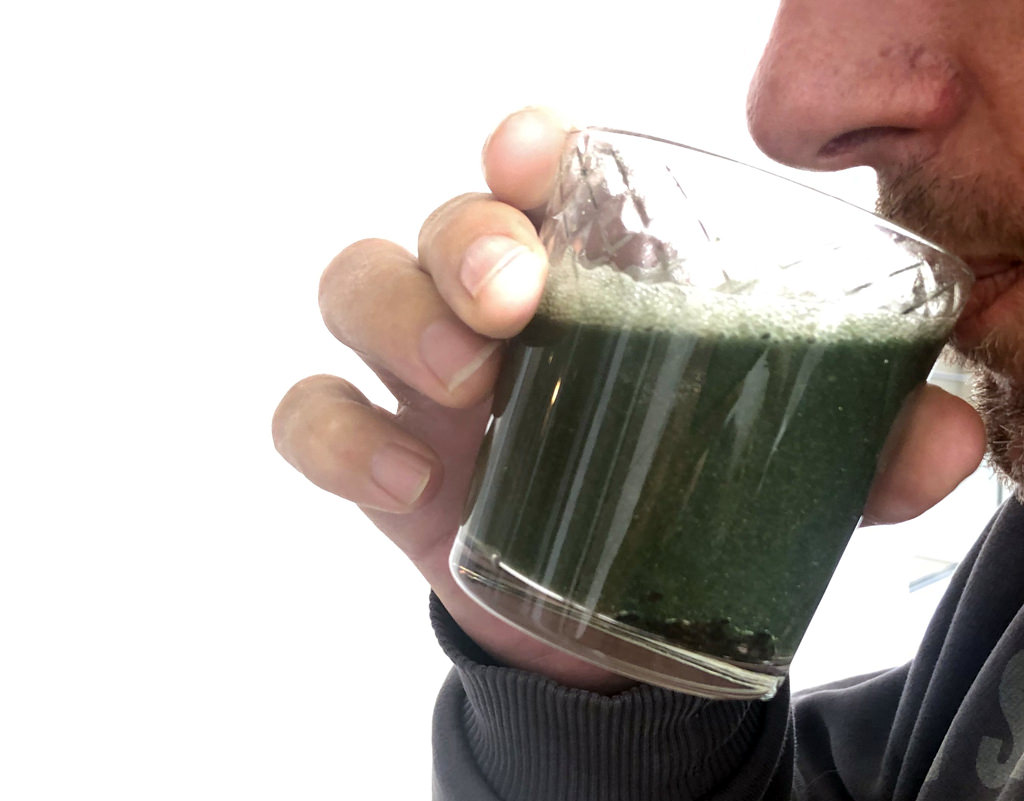 It isn't uncommon for a shake to leave a weird aftertaste in your mouth. This wasn't the case for my experience with Athletic Green.
It certainly does not taste like a fruit smoothie, but I was not expecting anything sweet since the greens drink has less than 1 gram of sugar per serving (no fruits, no sugar and no sweeteners are added for flavor enhancement).
Also, keep in mind that your opinion on the taste might be different. I've read some reviews online that called the taste and consistency "horrible."
A few primary flavors I could taste were vanilla, papaya, and pineapple. Minor flavors that came through were cherry, broccoli, and carrots.
A touch of ginger.
A slightly sweet and spicy taste, a little fruit tinge.
Believe it or not, I actually looked forward to having my shake each morning.
How Much Does Athletic Greens Cost?
$2.57 – $3.23 per serving, depending where you buy it from.
Athletic Greens can be purchase online, either direct from the company website or via Amazon. Purchasing through Athletic Greens directly allows you to subscribe monthly and save a little money. While you can subscribe through Amazon, you can only do so for the 12-ounce bag, not the travel-size packs.
A subscription through Athletic Greens directly allows you to purchase the product for $77, as opposed to $97, with a one-time purchase. Athletic Greens also offers a 60-day satisfaction guarantee that may be harder to obtain through a third-party seller.
Is it expensive?
Yes and no, depending on how you look at it.
The price per serving of Athletic Greens powder is less than you would pay for a calorie-dense breakfast. A one-time purchase would cost $3.23 per serving and a subscription, which is 21 percent off, comes to a cost of $2.57 per serving.
Is $2.57 a day a lot to pay to fuel your body with nutrition?
My daily coconut latte is more expensive than that.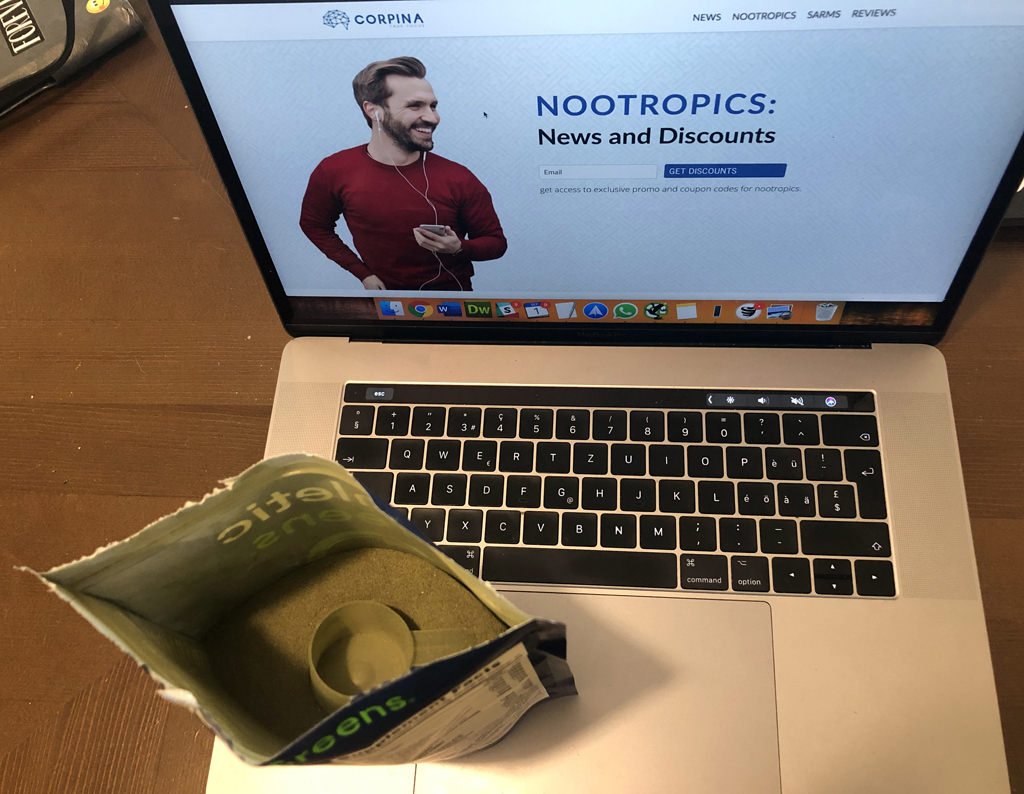 Also, my order came in a 30-Day supply bag (360 grams – 12.7 oz) so I cannot comment on their travel-size packs. My guess is that they're convenient for anyone who travels often. The travel-size packs are pre-portioned, so no need to measure or carry around large containers with weird green powder through airport security.
Price comparison
Athletic Greens has a few strong competitors in the green powder supplement niche.
I have not tried other brands yet – some of them are on my list in the coming months, and some I do not plan trying (for example, reading that Shakeology's taste reminds people of "lichen-covered tree bark and the sickly-sweet scent of vomit" does not exactly make me want to buy it).
Here is a side-by-side comparison with other greens supplements.
Side Effects
Some greens can have unfortunate side effects, especially in the gastrointestinal department. Luckily for me (and other people in my life!), I didn't have any of these. If anything, I could tell I had better gut health – less gas and bloating, and just less general discomfort.
I have a few allergies, but since the product is hypoallergenic and does not have any added synthetic ingredients that often cause gut issues for me, I had zero issues or side effects.
What are the potential side effects of Athletic Greens?
The company's official website does not provide any information on possible side effects, so I had to do my own research.
I checked online to see what other customers complained about. Most common side effects reported were:
Nausea
Abdominal cramps
Bloating
Constipation
Headache
Fatigue
FAQ
Are athletic greens vegan?
Yes, Athletic Greens are vegan.
Do super greens make you poop?
Probiotics, digestive enzymes, vegetables and fiber in the powder might cause noticeable differences in your bowel movements – this is normal. Expect your body to adjust after a few days.
How many calories are in athletic greens?
It's 50 calories per serving.
Does athletic greens have caffeine?
No, it's caffeine free.
How many servings of vegetables are in athletic greens?
The company claims to deliver the nutrient value of 10 to 12 servings of vegetables and fruits per one green drink serving.
How many days does it take for this product to work?
It works from day one.
How many days will it take you to feel the product working? That I can't answer.
The product is most beneficial when it is taken consistently on a daily basis. Some people will start taking the supplement with more of a deficit in their micronutrients, and will experience benefits faster. Other people, who already eat a more balanced diet, may not see the benefits immediately, or the benefits may be subtle. But every meal we eat should be balanced for nutrients – and most of us aren't getting that when we stop at a fast food joint for lunch a few times a week. Taking this supplement daily is supposed to ensure you are meeting all your nutritional needs.
Does it Work?
At this point we know Athletic Greens tastes surprisingly great, has a ton of healthy ingredients, and claims to improve five areas of health. Now we just need to know: does it actually work?
I've only been using the product for one month, but have already noticed improvements in my energy. I'm a generally healthy person, so I may have to have lab work done to see how it is helping me with my overall health internally.
Improvements with my energy levels could also be from replacing my breakfast with Athletic Greens. Skipping breakfast and intermittent fasting usually works pretty well for my energy, so this could have little to do with the drink. Whatever the case, I'm feeling more alert and active, so it's a win in my book.
At this point there aren't any trials or testing that have been conducted using Athletic Greens in particular to determine its efficacy. So for now we just have to rely on their claims and what other people have experienced.
Often when someone starts a greens routine they simultaneously make other lifestyle changes that will improve their health. Like drinking more water, working out more, stopping bad habits, etc. Knowing that, it can be hard to determine if someone's health improvements are solely due to Athletic Greens or a combination of all the changes they've made.
What Others Say
My experience is what it is – the experience of just one person. I thought it would be helpful to see what other people are saying.
I checked Amazon and the official product website to get an idea of what others were saying about their experiences.
The most common phrases I found included things like, "quality ingredients," "great product," "I recommend this to everyone!"
In addition to having Tim Ferriss' face and review in large form on their site, they also included what Dagmara Wozniak had to say. Wozniak is a 2-time Olympic Fencing Team member and 2016 Bronze Medalist. She claims that it gives her a burst of energy in the morning. Ok, I can attest to this fact.
At the time of writing this review there were 900+ Amazon customers who said the product was worth purchasing and reviewing. Of those, 78 percent gave the product 5 starts for a total of a 4-star overall rating.
What all the 1-star unhappy customers were unhappy with? The most common complaints were about the product packaging and personal preference type of things.
Is it Worth It?
Is this superfood drink worth it?
I can't answer that for you.
You are going to have to try if you want to find out if it's worth for you.

We all have different needs, goals and desires for our health and wellness. When it comes to cost, Athletic Greens is not the cheapest greens on the market, which certainly is a factor in determining the worth of a product.
Athletic Greens are worth adding to your regimen if you believe there are significant nutritional gaps in your diet. This is especially true for those who have busy and hectic schedules, or for people required to travel often for work and eat low quality convenience foods.
Other people who may benefit are those who are on some kind of restricted diet, or are experiencing nutritional deficiencies. Anyone wanting to boost their immunity and energy may also find Athletic Greens to be worth it.
It could also be worth it for people looking to lose weight. With the price at less than $4 per serving, replacing breakfast daily with this drink is certainly a healthy way to get in shape. There are low levels of some minerals like magnesium, so a diet with balance is still important.
The Bottom Line
After reading a lengthy review you probably just want to be told the bottom line: should you try Athletic Greens? There isn't a black and white answer to this question so a summary of the content may be beneficial in helping you make your decision.
Athletic Greens is a nutrient-dense shake.
Athletic Greens ingredients are safely sourced and manufactured.
Athletic Greens costs less than $4 per serving and can easily replace breakfast.
Athletic Greens is designed to support five major health areas.
Athletic Greens is tasty and easy to consume.
Athletic Greens supplies 75, non-GMO, pure ingredients.
Athletic Greens are used and recommended by Tim Ferris, a trusted health enthusiast.
With a 60-day money back guarantee, and a hefty discount for subscribing, it may be worth trying Athletic Greens for a trial period to determine if it is right for your health and nutrition regimen.
As with any dietary supplement, it is important to get clearance from your healthcare provider and know that Athletic Greens should not replace any medication or treatment for specific ailments or illnesses.

Athletic Greens Ultimate Daily, Whole Food Sourced All in One Greens Supplement, Superfood Powder, GlutenFree, Vegan and Keto Friendly, 30 Day Supply, 360 Grams (Athletic Greens)
Athletic Greens Ultimate Daily is an all-in-one health drink with 75 vitamins, minerals, and whole food-sourced ingredients to help support your body's nutritional needs across multiple critical areas of health, including energy, immunity, recovery, gut health, digestion, hormonal and neural support, and healthy aging.
Athletic Greens is perfect for anyone looking to live a healthier lifestyle. Athletic Greens helps you rise to the challenge. It's great for athletes and other high performers or those just starting their health journey. It's gluten-free, dairy-free, paleo friendly, keto friendly, vegan friendly, low allergen and <1g of sugar per serving.
Manufactured in a TGA-registered, Good Manufacturing Practice (GMP) Certified facility in New Zealand. Exceeding cGMP and meeting FDA guidelines.
Ten years of research and optimization with nutritionists, doctors, and naturopaths, 51 product iterations to date and counting. Trusted by top performers, athletes, and entrepreneurs. Easy on your stomach due to its powder form and 75 highly absorbable ingredients that work together to help the body absorb and synthesize these nutrients in a highly bioavailable form.
We don't compromise. You'll find no harmful chemicals, artificial colors, preservatives or artificial sweeteners or added sugar. And no GMO's, herbicides, pesticides, wheat, dairy, gluten, corn, lactose, sucrose, dextrose, egg, yeast, peanuts or animal products. In other words, Athletic Greens is suitable for almost any lifestyle and one scoop a day can replace the majority of your supplement board.
Last update on 2021-04-05 / Affiliate links / Prices / Images from Amazon Product Advertising API
---
More on Food and Nutrition