13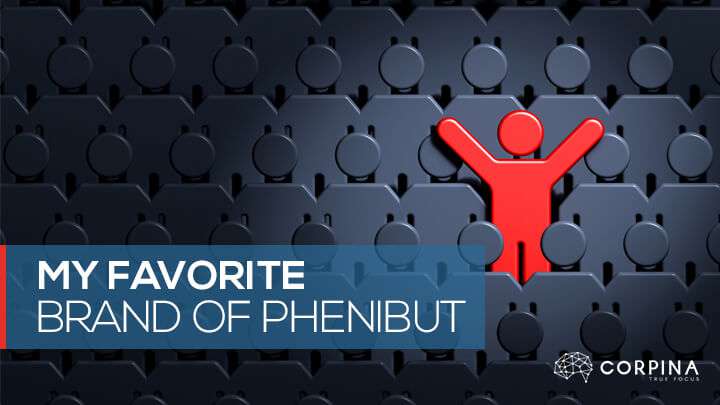 My Favorite Brand of Phenibut (and Where To Buy It)
Phenibut or Beta-Phenyl-Y-Aminobutyric Acid is a phenyl derivative of the naturally occurring neurotransmitter GABA (Y-Aminobutyric Acid).
It's one of the most effective nootropics or smart drugs, thanks to its proven ability to improve the neurological functions.
Phenibut crosses the blood brain barrier (due to the presence of the phenyl ring) and binds to the GABA metabotropic receptor, leading to the release of GABA.
Phenibut is thus a gamma receptor agonist, available in the form of powder or capsules and it is medically backed by clinical trials which suggest that it has sedative/calming effects, being able to support relaxation and feelings of well-being, to reduce anxiety and stress as well as to improve the REM sleep cycle and promote a restful sleep.
In addition to improving the cognitive function and mood, studies also suggest that Phenibut also enhances the release of dopamine.
Phenibut should not be used more than 3 consecutive days per week and never exceed 2000 mg per day, which should be divided between 2-4 times per day, because Phenibut has a half life of approximately 5 hours.
First time users should start at a lower dose to assess tolerance of this supplement.
It should not be used by anyone under the age of 18 and it should not be combined with alcoholic beverages.
Seriously guys, don't do it.
Preaching aside, here are my favs:
My Favorite Phenibut Brands (in Order Of Preference)
AbsorbYourHealth phenibut is sold in varying powder sizes.
Each jar of phenibut from Absorb Your Health contains anywhere from 5 to 500g of Phenibut. There are no data regarding its level of purity. If used as a nootropic, 1g per day at the most.
It is not recommended to be taken for more than three days in a row without at least 2 days break. If used as a short-term sleep aid, take 1 to 2 grams 2 hours before bedtime. When Phenibut is used for acute bouts of anxiety, a break of 7-10 days is required after using it for three consecutive days.
AYH phenibut starts at $8 for 5 grams making it one of the more expensive brands of phenibut online.
Overall rating: 4.6 out of 5 stars.
2. LiftMode Phenibut HCI (Crystal Granules)
LiftMode Phenibut is available as 40 g ( 1,40 oz), 100 grams (3,53 oz), 200 g (7,05 oz) and 500 g (17,64 oz).
This supplement by LiftMode in the form of powder is based exclusively on highly pure phenibut which promotes relaxation and a positive mood and improves the quality of sleep.
Each batch of Phenibut has been independently verified in the US by HPLC analysis to exceed a level of purity of 99.8%.
The certificate of lab analysis as well as a measuring scoop of 0.625 cc or 500 mg are included in each LiftMode Phenibut batch. It contains no impurities, nor negative metabolites.
Liftmode Phenibut dosage
The effects of this dietary supplement are dosage dependent.
If used as a cognitive enhancer (to improve memory, mood and attention) throughout the day or as an anxiolytic (to reduce stress and support relaxation), the recommended dose is 1 serving (500 mg or one scoop) 2-4 times per day, preferably one hour before a meal, in order to increase the absorption rate and thus, to feel its effects faster (typically in about one hour after taking it).
If used as a sleep aid, the recommended dose is 2-4 servings before bedtime, 10 hours before anticipated waking time ( roughly 1-2 hours prior to sleep), because it promotes a deeper and restful sleep.
Dissolve each dose of Phenibut powder (500 mg) in any sweet or sour liquid, such as a citrus beverage, except for grapefruit juice ( because this juice lowers its absorption rate).
The 40 g LiftMode Phenibut jar costs $12.88, the 100 g jar $24.88, the 200 g jar $44.88 and the 500 g jar $98.88 (as available on Amazon). If you order from LiftMode directly you can save 10% here.
The 100 g jar provides a 50-day supply, which makes it very cost-effective when compared to other brands and an excellent money value.
Overall rating: 4.7 stars out of 5 stars.
3. MRM Relax-All With Phenibut
MRM Herbal Muscle Relaxer comes in capsule form, sold in bottles of 28 capsules or 60 capsules.
This supplement by Metabolic Response Modifiers combined various herbs with muscle-relaxing properties with phenibut, in order to support relaxation and calmness to muscles and to aid in a better night s sleep.
The level of purity of the phenibut incorporated in MRM Relax-All has not been established.
The suggested use as a dietary supplement is 1 capsule ( which contains 500 mg of phenibut among other natural ingredients) every 3-4 hours in between meals.
You should not exceed 4 capsules per day. Do not use it for more than 5 consecutive days.
If used as a sleep aid, you should take 2 to 4 capsules 45-60 minutes prior to bedtime.
MRM Relax-All 28 capsules cost $5.95 and 60 capsules cost $13.64 (on Amazon), providing a 15-day supply, which again makes it less cost-effective than the first brand.
Overall rating: 4.0 out of 5 stars.
4. HardRhino Phenibut Powder
Update 2016: It looks as if HardRhino no longer carries Phenibut.
HardRhino Phenibut Powder is available as 50 g (1.75 oz), 100 g (3.5 oz), 200 g (7.0 oz), 500 g (1.1 lbs) and 1000 g (2.2 lbs).
This supplement contains pure, pharma grade powder micronized for quick absorption, working faster than crystallized powder.
This pure phenibut powder, with no additives or fillers is lab tested and verified and thus its purity is guaranteed. However, the exact level of purity is not revealed.
It is also foil sealed for freshness. It does not include a measuring scoop and therefore, you need to use a milligram scale for absolute accuracy of the recommended dose, which is 250 mg-1500 mg twice per day, in between meals or preferably 30 minutes -1 hour before eating.
On Amazon, HardRhino phenibut powder 50 g costs $11.99; 100 g costs $19.49; 200 g costs $37.99; 500 g $92.99 and 1000 g $190.99. In terms of price, this brand is as cost-effective as the first brand, but because accuracy of the dosage is crucial, the fact that it does not come with a measuring scoop is a drawback. Another drawback is the fact that its level of purity is not clearly stated.
Overall rating: 4.4 out of 5 stars.
5. Primaforce Phenibut
Update 2018: It looks as if Primaforce no longer has Phenibut available.
Primaforce phenibut comes as either bulk powder ( 100 g) or 90 veggie capsules in a bottle.
Phenibut bulk powder by Primaforce is lab tested for purity and potency, although the percentage of purity is not listed. The serving size is one scoop and the amount per serving is 300 mg.
As a nutritional supplement for relaxation and feelings of well-being, you should take 1-2 servings 2 to 4 times a day, in between meals.
If used as a sleep aid, take 2-6 servings 1-2 hours prior to bedtime. The manufacturer Primaforce advises against taking it for more than 3 days in a row, without 2 or 3 days washout.
It does not include a measuring scoop and thus, you need to use a milligram scale to make sure you ingest the right dose.
Phenibut capsules by Primaforce contain 90 capsules of 250 mg of phenibut each. As a dietary supplement, you should take 1-2 capsules 2 to 4 times daily, typically 1 hour before a meal. As a sleep aid, take 2-6 capsules 1-2 hours before bedtime, for a restful sleep.
Does primaforce phenibut still work?
Yes, it does. Primaforce has increased their cGMP practices and phenibut quality significantly since their powder first appeared on market. Not only has the quality improved, but the powder is more affordable than it was even two years ago.
The cost of Primaforce bulk powder 100 g ( or 333 servings) is $28,99 (on Amazon) and the capsules ( 20-day supply) cost $12,59, less cost-effective than the first brand.
Overall rating of the bulk powder: 3.8 stars out of 5; the capsules: is 3.5 out of 5 stars.
Conclusion
Both AbsorbYourHealth Phenibut and LiftMode Phenibut have great user reviews from satisfied customers and they are great value.
Imo, both are very potent and effective (for fast results) and safe (without the hangover) in terms of greatest relaxation, restful sleep, and improved mood.
---
More on Phenibut
Where to buy
Phenibut vs other products